Exceptional Grab Hire in London
19/6/18
Here at ND Brown, we offer reliable, exceptional grab hire in London. It's not the only place we service either – with strategically placed depots across the United Kingdom meaning that we are able to service the major cities of Birmingham, Manchester, Belfast and both Edinburgh and Glasgow.
We have been supplying the utility, civil engineering, municipal and highway maintenance industries with high quality modern HGV vehicles for over 30 years and are still owned and operated by the same dedicated management team that gave us our humble beginnings.
Our vast experience in the industry and our focus on providing excellent service across the United Kingdom should hold us in good stead and hopefully fill you with enough confidence to let us hear your requirements.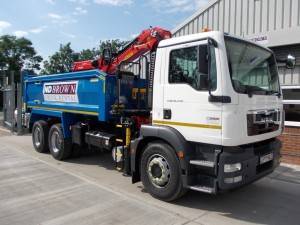 Perfectly Located for Grab Hire in London
Our South East depot, based in Kent, is in the perfect location to meet the needs of an ever expanding capital city – allowing us to provide exceptional grab hire in London.
The vibrant environment of London creates the needs for additional homes, shops, transport networks and further expansion – meaning that the need for grab hire in London rises due to their incomparable use in the extraction of demolition and construction waste.
Even better is the fact that we can offer our grab hire in London for 24 hours a day, across every day of the year, as well as offering both short and long term hiring.
Need Grab Hire in London? Contact Us For Any Job
Our range of grab hire in London can be used for any job due to the array of sizes under our ownership. We can offer the smaller 7.5 tonne tipper grabs all the way to the largest 32 tonne lorry which can extract debris weighing up to half of its own weight.
If you're looking for exceptional grab hire in London and high quality delivery every time, please contact a member of our helpful team who will provide you with more information and a quote.