HGV Hire for Civil Engineering Projects
22/3/18
HGV hire is an essential part of civil engineering projects in the UK. There are some high profile construction projects underway, or about to start throughout the country at the moment. From Cross Rail in London to the Queensferry Crossing in Scotland and the proposed HS2 project. There are some massive feats of design and engineering happening, resulting in a lot of investment in infrastructures like new roads, railways, hospitals, flood defences, to name a few. Apart from the massive headline grabbing projects we hear of via national media, there are many more projects having an impact on smaller communities. Even if you don't live in or near a major UK city, the chances are that there is an important civil engineering project near you.
HGV Hire for The Construction Industry
What all project managers in civil engineering or construction will tell you is that HGV hire is necessary for the delivery of materials and equipment. When a plot is excavated, or an old structure is demolished it is a heavy goods vehicle which will extract the waste and transport it off site for processing. Sometimes the construction plot is so large that having HGV hire is a means of moving materials round the site. This is often the case with materials such as sand, gravel, soil, hardcore and other aggregates.
Whether your civil engineering or construction contractor is working on a major tunnelling project, building a retail park, or simply applying surface treatments as part of scheduled road maintenance. ND Brown has the HGV hire option to suit your project requirements.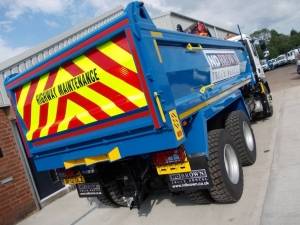 Your HGV Hire Is Ready to Go!
There is a wide choice of HGV hire available from strategically located depots around the UK. Whether you require short or long term hires, ND Brown has the solution. Please get in touch to discuss your requirements in more detail and to receive a quote.
About ND Brown
ND Brown Ltd is a specialist independent truck rental and sales company of over 40 years' standing. Owned and operated by the same dedicated management team since its inception, ND Brown's efforts are focused on supplying the utility, civil engineering, municipal and highway maintenance industries with high-quality modern HGV vehicles for both short and long-term self-drive hire.
From our sales division, we also sell a wide, but specialised range of new and used commercial vehicles.
Please call us on 01902 791991 or email us on enquiries@ndbrown.co.uk