Grab Hire for London Construction Projects
20/3/18
Within the United Kingdom's capital, the continued development of buildings and the new installation and additions to the city's infrastructure has resulted in a massive demand in grab hire for London. The South East depot of ND Brown Commercial Vehicle Hire is perfectly located to meet the construction and demolition demands of 21st century London. Whether your project is to the North or South of the River Thames, and whether you require a short or long term hire solution, we have a big selection of grab hire trucks at your disposal, 24 hours a day, 365 days a year.
Grab Hire for London Growth
To put the demand into context, since 2011 London's population has increased by around 650,000, an annual increase of around 120,000 a year. This is twice the rate of growth of the UK as a whole. 2016 figures show that 8.8 million people lived in the city and its 32 Boroughs; which is 13% of the national population. Being in such a dynamic environment creates the need for homes, shops, transport networks, utilities and other forms of infrastructure. Whether you are involved in a project within the public or private sector, grab hire trucks are vital machines and equipment for the extraction of demolition and construction waste.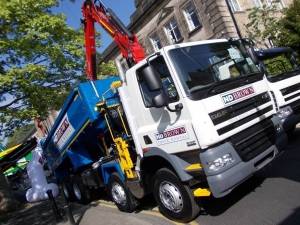 ND Brown's provision of grab hire for London and the South Eastern region cannot be beaten. We have smaller 7.5 tonne tipper grabs, which are great for sites with restricted access. The mid capacity 26 tonne vehicle can move a payload of 12 tonnes. Our largest grab hire for London is the 32 tonne lorry which can extract and remove a payload of approximately 16 tonnes. All have an abundance of safety features and a choice of Epsilon, Atlas or HMF cranes.
Grab Hire for London Expansion
Grab hire for London from ND Brown is an integral part of any construction project. You can rely on high quality vehicles, delivery and a wide choice of hire options. Contact us today for more information and a quote.
About ND Brown
ND Brown Ltd is a specialist independent truck rental and sales company of over 40 years' standing. Owned and operated by the same dedicated management team since its inception, ND Brown's efforts are focused on supplying the utility, civil engineering, municipal and highway maintenance industries with high-quality modern HGV vehicles for both short and long-term self-drive hire.
From our sales division, we also sell a wide, but specialised range of new and used commercial vehicles.
Please call us on 01902 791991 or email us on enquiries@ndbrown.co.uk