Being at the forefront of London's ever changing cityscape means that some heavy duty kit is needed to ensure your projects are completed in the most time and cost effective way possible. For grab hire in London, you're in safe hands when you choose N.D Brown whether you're working on a personal or professional project. We pride ourselves in being the number one in London for grab hire, and we're confident that you'll find our grab hire process in London a doddle!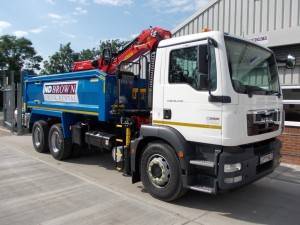 Choose N.D Brown for Grab Hire in London
We have a great range of grabs available to hire in London. This means finding the perfect grab for the job will be a breeze; our expert and highly trained team of specialists are always on hand to discuss your needs and help you to find the perfect solution. Our grabs for hire in London range from 7.5 tonnes to 32 tonnes; so whether your job is big or small, we have you covered. For your peace of mind, we also carry regulation and partnerships with organisations such as Contructionline.
Our entire fleet feature heavy duty, fixed side bodies, and are kept in excellent condition ready for action! We are flexible, and can offer short and long term grab hire options in London. We provide 3 different brands of crane grab to hire; therefore, this allows us to tailor your grab hire to meet your exact needs.
Further to our hire service, we also have a range of vehicles which are available to purchase. We offer a range of municipal vehicles which is intended to cover the practical needs of all projects in the UK and Northern Ireland. For information on the other kinds of working vehicles we supply, take a look at our HGV hire guide. This range includes options such as cage tippers and more.
A Fully Tailored Approach to Grab Hire in London
Whether your London project is short term or long term, N.D Brown have the perfect grab hire solution for you. You can find more info on the different grab vehicles available to hire in London here, or get in touch if you have any queries or to discuss the options available for grab hire in London. Do you already know exactly what you're looking for? Fill out our hire request form, and we'll be in touch!