HGV Hire – Our Safety Features
26/1/16
Here at ND Brown the safety of our vehicles and broader public safety is our highest priority, and so we ensure that our vehicles are fitted with appropriate safety features to ensure that any incidents are avoided.
HGV Hire Safety Features Explored:
All of our HGV hire vehicles are fitted with features such as beacons and markings where needed to ensure that they are easily spotted and recognised on the road. We also ensure that all of our vehicles are regularly serviced and maintained to the highest standards to reduce the risk of break downs and to ensure that all of our vehicles are as safe as possible.
We're constantly developing new ways to improve our HGV hire service, and this includes the recent introduction of extra security equipment from Sentinel systems. We have used Sentinel to help to safeguard hard to see cyclists with the addition of side scan detection across many of our vehicles. We hope that this will make our hgv hire safer for both drivers and other road users.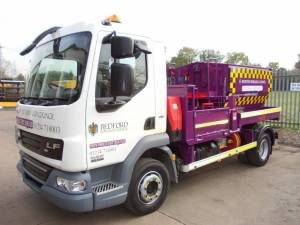 In addition to this many of our large HGV hire vehicles including 32 tonne tipper and tipper grabs have been fitted with 4-camera systems to help drivers have better visibility of their surroundings, as well as capture footage to help with incidents and theft. This all round view eliminates blind spots and reduces the risk of incidents.
Contact us about HGV Hire:
If you would like to learn more about our HGV hire or our safety features then please get in touch. We have depots located throughout the country and so can offer you high quality hire options wherever you're located in the UK including London.
About ND Brown
ND Brown Ltd is a specialist independent truck rental and sales company of over 40 years' standing. Owned and operated by the same dedicated management team since its inception, ND Brown's efforts are focused on supplying the utility, civil engineering, municipal and highway maintenance industries with high-quality modern HGV vehicles for both short and long-term self-drive hire.
From our sales division, we also sell a wide, but specialised range of new and used commercial vehicles.
Please call us on 01902 791991 or email us on enquiries@ndbrown.co.uk