26 Tonne Hot Box Hire from ND Brown
21/1/16
Got a big project coming up that needs a hot box? Or does your business require day to day use of this specialist vehicle? We provide a wide range of hot box hire vehicles including a 26 tonne model – our largest available. Our 26 tonne hot box has fully insulated containers and a dedicated chassis for maximum payload.
26 Tonne Hot Box – Specifications
The twin chambers are split 60/40 and have a gas system which is thermostatically controlled. This model has a capacity of 7.5cu with a payload of 15 tonnes. It also comes equipped with towing equipment. This hot box is perfectly suited to a wide range of projects and we regularly work with the utility, civil engineering, municipal and highway agency sectors. Its large capacity means that it can quickly deliver high quality results, and is one of our favourites for road mending or laying.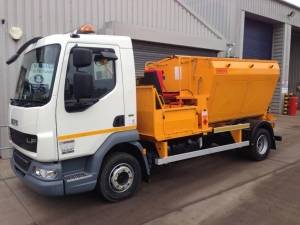 The 26 tonne hot box is just one of our hot box fleet and we also supply, 7.5 tonne, 12 tonne and 18 tonne hot boxes, dependant on your requirements. Our hot box hire is available from our many depots which stretch the length and breadth of the country, ensuring that wherever you're located you can benefit from our excellent service.
All of our hot boxes are maintained to the highest levels by our expert staff. If you have your own vehicles we also offer a full refurbishment facility, undertaken by our team.
Contact ND Brown for Hot Box Hire:
If you would like to find out more about our hot box hire options then please get in touch. We offer both short and long term contracts at competitive rates.
About ND Brown
ND Brown Ltd is a specialist independent truck rental and sales company of over 40 years' standing. Owned and operated by the same dedicated management team since its inception, ND Brown's efforts are focused on supplying the utility, civil engineering, municipal and highway maintenance industries with high-quality modern HGV vehicles for both short and long-term self-drive hire.
From our sales division, we also sell a wide, but specialised range of new and used commercial vehicles.
Please call us on 01902 791991 or email us on enquiries@ndbrown.co.uk