Grab Hire for your Construction Business
14/1/16
Here at ND Brown we have a fleet of over 450 vehicles all primed and ready to help your business. One of our most popular hire options are tipper grabs, and can be a vital element of many construction projects. Grab hire enables you to lift, carry and transport cargo to and from the trailer with minimal man power. This is incredibly useful in most projects where heavy lifting is required to complete the project, reducing the amount of people needed and reducing the risks involved with tasks such as this.
Why Choose ND Brown for your Grab Hire?
Our fleet of tipper grabs are available throughout the country and are especially popular in London, Birmingham, Manchester, Scotland and the Midlands. We offer a wide choice of vehicles for you to pick from to ensure that there's a tipper grab to suit your requirements – see the specifications for 18 tonne, 26 tonne and 32 tonne vehicles available. You can choose from Epilson, Atlas and HMF cranes dependant on your specifications.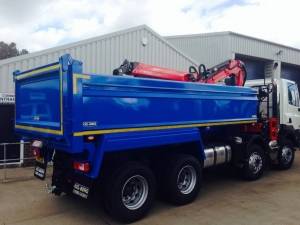 ND Brown depots are located throughout the UK and we specialise in supplying our grab hire vehicles quickly and efficiently. To make the process even easier we also provide a delivery and collection service. This means that our team will drop your chosen vehicles at a location of your choosing, helping you to easily co ordinate the hire with the rest of your project.
Contact ND Brown for Grab Hire:
If you would like to find out more about our grab hire please browse our individual vehicles online, or get in touch with a member of our expert team. We're experts at working with the construction industry, providing a dependable, high quality and cost effective service countrywide.