Safety First with HGV Hire from ND Brown
9/3/17
Safety comes first with our HGV hire vehicles. Here at ND Brown, we are a CLOCS champion. We are one of a working group which forms the Construction Logistics and Community Safety organisation within our industry. Committed to promoting best practice and high standards to reduce the risks on the road, on site, and especially to vulnerable road users.
Vulnerable road users are cyclists, pedestrians, motor cyclists and equestrian riders. Being an HGV Hire provider and part of the CLOCS community we feedback to improve vehicle safety design, look to address the safety imbalance amongst road users and help to promote the adoption of national standards to manage work related road risk.
Safety Features on Our HGV Hire Vehicles
Visibility is key to road safety, which is why the HGV hire vehicles we provide have several key safety features for the benefit of the vehicle operative, vulnerable road users, and the workforce onsite.
Despite the enormous size of many HGV hire vehicles, there are some specific safety features and additions which help to make them more visible. Who can miss the flashing amber lights of the beacon bar? Regardless of whether it is a bright sunny day, night time, or just plain foggy, road users will know a commercial hire vehicle is in operation.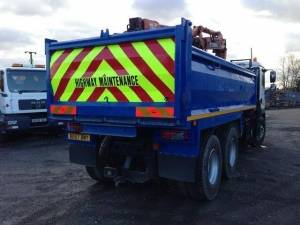 Full chapter 8 high resolution chevrons emblazoned across the rear of the truck will attract the attention of road users, making them aware that a working vehicle is ahead.
Tackling the blind spots of our HGV hire vehicles is essential in managing the risk of collision. Reverse cameras and multiple mirror configurations assist drivers when they manoeuvre. Providing these tools to assist vehicle operatives is essential in reducing risks to vulnerable road users.
Contact ND Brown for Your HGV Hire
ND Brown is an HGV hire specialist with depots around the UK. We have provided self drive commercial vehicle and hot box hire for over 30 years. Contact us for a quote for your requirements today.
About ND Brown
ND Brown Ltd is a specialist independent truck rental and sales company of over 40 years' standing. Owned and operated by the same dedicated management team since its inception, ND Brown's efforts are focused on supplying the utility, civil engineering, municipal and highway maintenance industries with high-quality modern HGV vehicles for both short and long-term self-drive hire.
From our sales division, we also sell a wide, but specialised range of new and used commercial vehicles.
Please call us on 01902 791991 or email us on enquiries@ndbrown.co.uk