Promoting High Standards in Tipper Hire
17/3/17
You can expect our tipper hire, just like any of our commercial vehicle and hotbox hire to meet high standards. We back this up with our affiliation to many industry regulators and influencers. We are committed to providing the best standard of safety, efficiency, and processes. To meet the standards expected of us by our customers, external organisations rigorously audit us.
High Quality Tipper Hire
We are SOCA accredited as part of FORS – the Fleet Operator Recognition Scheme. They provide a benchmark for lorry operators, covering all aspects of safety, fuel efficiency, economical operations, and vehicle emissions. We are committed to providing the highest quality of tipper hire at every stage of the process in the chain to our customers.
Any project manager will tell you that each project is unique, often involving a different solution depending on its requirements.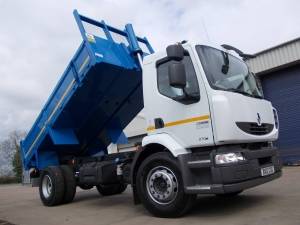 This has resulted in a comprehensive range of tipper hire, covering a variety of vehicle specifications:
Tippers – When you need a small but powerful tipper hire capable of carrying a small crew, their tools, and materials. The 3.5 tonne and 7.5 tonne options are perfect for your needs. If you must deal with moving a greater volume of materials, like stone, soil, gravel and hardcore, then you need a heavy-duty tipper. Bring on the 18, 26 or massive 32 tonne tippers!
Tipper Grabs – Fantastic machines for quick loading and removal of large scale waste from your site. A single operative can use the huge bucket and arm to efficiently load and then drive away. Capacities of 7.5 tonne to 32 tonnes give you plenty of "muck away" options.
Cage Tippers – Some loads are bulky, unusually shaped, or lightweight and prone to flying away in transit. This tipper hire is the solution to these logistical challenges by keeping the cargo within its load cage.
Short and Long Term Tipper Hire
All our tipper hire is available on a short or long term basis. With depots based around the UK, and a delivery and collection service, we provide the maximum in efficiency to ensure that you can keep your project or services on schedule. Contact us today for more information and a quote for tipper hire.
About ND Brown
ND Brown Ltd is a specialist independent truck rental and sales company of over 40 years' standing. Owned and operated by the same dedicated management team since its inception, ND Brown's efforts are focused on supplying the utility, civil engineering, municipal and highway maintenance industries with high-quality modern HGV vehicles for both short and long-term self-drive hire.
From our sales division, we also sell a wide, but specialised range of new and used commercial vehicles.
Please call us on 01902 791991 or email us on enquiries@ndbrown.co.uk