HGV Hire for the Winter Season
23/11/18
HGV hire is available to meet the increased demands placed upon local authorities and contractors during the Winter season. The colder, wetter conditions we experience in the United Kingdom at this time of year places extra strain on the roads, cycleways, footpaths and drainage systems of our cities, towns and villages. Drafting in extra resources in the form of additional vehicles to meet the responses to damaged road surfaces, blocked gullies, or obstructed footpaths can all be achieved with the assistance of ND Brown Ltd.
Be Prepared for Winter with HGV Hire from ND Brown
We have a broad range of HGV hire vehicles available on short, or long term contracts. Very often it is smaller and more agile vehicles which are needed to access streets and locations unsuitable for multi-wheeled 32 tonne trucks. A 3.5 tonne tipper is the answer. It is versatile, with a practical flatbed payload of 1 tonne which can carry and remove a broad range of materials. Crew cabs will transport your workforce in comfort. Perfect for making emergency repairs to potholes and cracks caused by bad weather.
For loose vegetation, like branches and fallen trees, a cage tipper provides an enclosed load area to stop this from becoming a hazard in transit during site clearance. Where leaves and litter have washed down grids and caused a blockage gully emptiers can blast jets of water and extract up to 1000 gallons of obstructions. Keeping our sewer systems working and able to cope with increased surface water runoff from roads and pavements is particularly important at this time of year.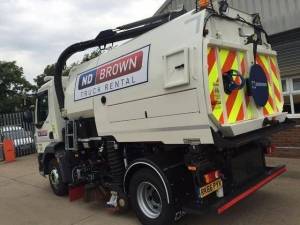 Winter festivals and seasonal markets are a great way for communities to come together and enjoy everything that the run-up to Christmas has to offer. However, wherever there are public gatherings, there is also an increase in litter. ND Brown has road sweepers on stand by so your town or city centre will stay clean and welcoming.
Book HGV Hire from ND Brown
With depots around the country we can deliver any HGV hire vehicles you book with us directly to your location for convenience including London. With flexible hire options available, please contact us and speak to one of our experienced advisers today.
About ND Brown
ND Brown Ltd is a specialist independent truck rental and sales company of over 40 years' standing. Owned and operated by the same dedicated management team since its inception, ND Brown's efforts are focused on supplying the utility, civil engineering, municipal and highway maintenance industries with high-quality modern HGV vehicles for both short and long-term self-drive hire.
From our sales division, we also sell a wide, but specialised range of new and used commercial vehicles.
Please call us on 01902 791991 or email us on enquiries@ndbrown.co.uk