Tipper Hire, what's it Used For?
19/11/18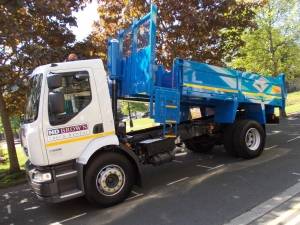 Tipper hire is a highly adaptable means of transporting loose cargo. From soil, aggregates and hardcore for ground working and foundations to a variety of hard landscaping materials. They're also crucial for the removal of construction waste and rubble for disposal. The tipper truck is an essential part of any construction or demolition project. Whether it is for civil engineerings, such as a new road system, drainage, power, bridges, railways and tunnels. Property developments like new offices, housing and retail parks, and many other forms of construction. Tipper trucks are the means of keeping materials coming onsite and the removal of debris off it.
Tipper Hire Trucks for Small and Large Loads
To keep this busy cycle going and projects on schedule, ND Brown has a full range of tipper hire vehicles with various capacities to suit all types of project. From a small driveway renovation and a domestic building project which might require a short term hire, to a long term infrastructure development which may take months or even a few years to complete. ND Brown has flexible contract options to supply your project with the commercial vehicle hire you need on the ground to keep you on schedule and in-budget.
Nationwide Tipper Hire Trucks from ND Brown
Tipper hire is available throughout the United Kingdom thanks to a network of depots which are strategically located throughout the country. Busy construction projects requiring tipper hire in London and the South East have our Kent based depot on their doorstep. Our Midlands based head office and depot is ideally placed to serve Birmingham, the centre of the country and the North. You will also find us in Scotland, Northern Ireland and Devon providing tipper hire to the South West and Wales. Contact our highly experienced team to discuss your project's requirements.
About ND Brown
ND Brown Ltd is a specialist independent truck rental and sales company of over 40 years' standing. Owned and operated by the same dedicated management team since its inception, ND Brown's efforts are focused on supplying the utility, civil engineering, municipal and highway maintenance industries with high-quality modern HGV vehicles for both short and long-term self-drive hire.
From our sales division, we also sell a wide, but specialised range of new and used commercial vehicles.
Please call us on 01902 791991 or email us on enquiries@ndbrown.co.uk