Hot Box and HGV Hire for Road Repairs
23/5/17
Hot box and HGV hire is at the forefront of the battle to repair our road systems. The scourge of the modern motorist is the pothole. With reports of the repair bills to vehicles running into several hundred million pounds each year in the UK and Councils faced with compensation claims, keeping our highways in full working order is a matter of national importance.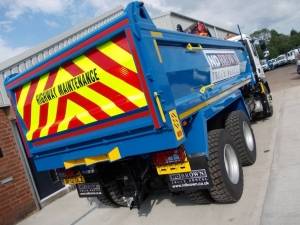 In January 2017, the UK Government announced a budget of £1.2 Billion for Councils to improve roads, cut congestion and improve journey times during the 2017-18 financial year.
ND Brown have the specialist vehicles, like hotboxes and a range of HGV hire trucks, tippers and grabs for organisations needing extra equipment to tackle small or large scale road repairs. For the past 30 years, we have been supporting councils and contractors with the commercial vehicles and HGV hire to ensure they complete their project on time and on budget.
Hot Box and HGV Hire for Public and Private Sector
Both public sector organisations, like Councils, and private sector construction companies or contractors have experienced ND Brown's first class HGV hire service. We understand that each project is unique so we tailor our service to you. We have an unrivalled selection of vehicles. From small tippers for small scale repairs and muck removal, to huge eight wheeled tipper grabs. If you are carrying out a series of patching and pothole repairs or a complete resurface, we are hot box specialists. Our sweepers will help prepare a surface, or clean up after resurfacing, so you can keep the road network moving.
Hot Box and HGV Hire from ND Brown
When you require HGV hire, hotboxes or specialist commercial vehicles for your roadmending or highway construction project, ND Brown has the solution. With short and long term hires and depots based across the UK, we have a large fleet which can be mobilised anywhere nationally (including London).
Contact us to discuss your project requirements and get a quote today.
About ND Brown
ND Brown Ltd is a specialist independent truck rental and sales company of over 40 years' standing. Owned and operated by the same dedicated management team since its inception, ND Brown's efforts are focused on supplying the utility, civil engineering, municipal and highway maintenance industries with high-quality modern HGV vehicles for both short and long-term self-drive hire.
From our sales division, we also sell a wide, but specialised range of new and used commercial vehicles.
Please call us on 01902 791991 or email us on enquiries@ndbrown.co.uk