Tipper Trucks Safety Guidance
24/5/17
There is extensive safety guidance for the use of tipper trucks. Here at ND Brown we champion safe practices for the benefit of vehicle operatives, site staff and pedestrians and other road users.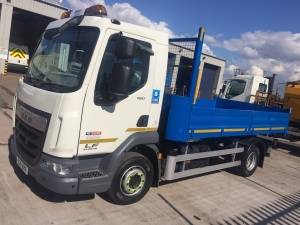 Here is some of the guidance from the Health and Safety Executive, the Fleet Operator Recognition Scheme, and the Construction Logistics and Community Safety organisation with regards the use and operation of tipper trucks.
Tipping is a dangerous activity. There is a risk that a vehicle could topple over if a load becomes unsteady while in transit or when unloading on site.
Ensure that the vehicle is within its gross weight limitation and that the load is distributed evenly across the axles. The load must be secure always.
When driving to the site the vehicle must keep to safe speed limits following a route suitable for the type of tipper truck. It must be driven carefully and with consideration for vulnerable road users.
Communication with the site must be maintained and the vehicle and driver checked in upon arrival.
The tipping or loading area itself needs to be level and no one should be within the vicinity of the vehicle when manoeuvring and tipping. Operatives need to wear high visibility safety clothing at all times.
Special attention should be made to the risks of striking overhead cables to avoid electrocution when raising the tail of the truck.
This is not a complete list and further safety information is available via the respective industry bodies.
Tipper Trucks for Hire from ND Brown
A full range of tipper trucks are available to hire from ND Brown. We have depots around the UK and tipper hire in London and the South East is served from Tonbridge in Kent. All our specialist commercial vehicles and HGV's, including tippers are highly maintained and fully serviced. We specialise in providing quality vehicle hire to public and private sector organisations. Contact us for more information.
About ND Brown
ND Brown Ltd is a specialist independent truck rental and sales company of over 40 years' standing. Owned and operated by the same dedicated management team since its inception, ND Brown's efforts are focused on supplying the utility, civil engineering, municipal and highway maintenance industries with high-quality modern HGV vehicles for both short and long-term self-drive hire.
From our sales division, we also sell a wide, but specialised range of new and used commercial vehicles.
Please call us on 01902 791991 or email us on enquiries@ndbrown.co.uk