Hot Box Servicing and Rental in the UK
9/5/17
Hot Boxes enable the efficient laying of asphalt to repair roads, car parks, pavements, and pedestrian zones. These are specialist vehicles which keep asphalt at the optimum temperature so that it can be used to repair patches of road surface. In the case of our large road mender vehicles they can cover large surface areas with this material. Various capacities are available for hire across the UK.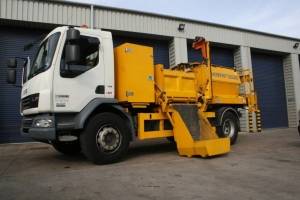 Hot Box Solutions from ND Brown
Hot box hire and self drive rental is the perfect solution for contractors looking for short and long term use. We supply high quality, reliable vehicles which you will have seen being used for civil engineering projects, utilities providers, councils and municipal organisations within the public sector and highways agencies up and down the country.
Do you have your own fleet of hotboxes? We offer complete servicing and repairs for third party vehicles. The same team of expert mechanics and technicians will service your fleet to the high standards we demand of our own vehicles. Your specialist vehicles require the specialised attention that we can offer to keep them working efficiently.
Are you looking to buy a hot box? We have a range of commercial vehicles for sale including hotboxes. When we update vehicles in our fleet we make them available to buy. You can be confident that these vehicles have been regularly serviced and kept in the best working order.
Contact ND Brown for Hot Box Services
When you need a reliable supplier, who can provide a full range of services from hot box hire, repairs and servicing, and used vehicle sales. ND Brown are the people to contact. We have depots based across the UK to meet the requirements of our customers efficiently. Get in touch for further information about any of our hot box vehicles or servicing.
About ND Brown
ND Brown Ltd is a specialist independent truck rental and sales company of over 40 years' standing. Owned and operated by the same dedicated management team since its inception, ND Brown's efforts are focused on supplying the utility, civil engineering, municipal and highway maintenance industries with high-quality modern HGV vehicles for both short and long-term self-drive hire.
From our sales division, we also sell a wide, but specialised range of new and used commercial vehicles.
Please call us on 01902 791991 or email us on enquiries@ndbrown.co.uk