London Tipper Hire and Commercial Vehicle Specialists
27/4/17
Tippers are an essential part of any construction project. The vehicles of London tipper hire specialists, ND Brown are used daily to deliver essential building and landscaping materials like soil, hard core, stone, and gravel amongst many other aggregates. This type of commercial vehicle has helped keep London's construction projects on track for decades. We are proud to be at the forefront of this provision.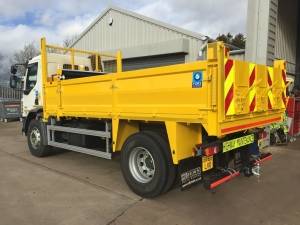 Looking for London Tipper Hire? ND Brown has the Solution
There is a wide choice of London tipper hire from ND Brown. Tippers are incredibly versatile. The smallest 3.5 tonne is available in a single cab or a double cab if you are carrying a crew of workers. With a payload of one tonne, these are agile vehicles perfect for carrying out tasks in areas with limited access. Often used for municipal projects, they allow materials, tools, and workers to be transported almost anywhere.
At the end of the spectrum is the giant 32 tonne eight wheeled tipper. This is used for transporting non-hazardous loads on an industrial scale. Commonly seen transporting to and from major civil engineering and construction projects. Its capability to transport a payload of 16 tonnes is perfectly suited for large scale projects.
View our full range of London tipper hire vehicles.
Get in Touch for London Tipper Hire
If you already know exactly the type of vehicle you require and the timescale of your hire then you can send this information to us via our Booking Request Form.
For contractors looking for more details about any of our London tipper hire vehicles, you can view our online brochure. To speak to a member of the ND Brown team who can assist you with enquiries about any of our hire offerings, please contact us, and we will be happy to be of service.
About ND Brown
ND Brown Ltd is a specialist independent truck rental and sales company of over 40 years' standing. Owned and operated by the same dedicated management team since its inception, ND Brown's efforts are focused on supplying the utility, civil engineering, municipal and highway maintenance industries with high-quality modern HGV vehicles for both short and long-term self-drive hire.
From our sales division, we also sell a wide, but specialised range of new and used commercial vehicles.
Please call us on 01902 791991 or email us on enquiries@ndbrown.co.uk