The number one supplier of Cage tippers in London
18/10/17
As a national company, ND Brown regularly supply cage tippers in London and surrounding areas. If you are London based and have found yourself in need of a vehicle to not only move substantial amounts of materials but to also move and store large items, then we can help. We offer cage tippers in London on an operated or self operated basis and on a short term, long term or open ended contract – this enables us to cater to all demands whilst also providing clients with a high level of flexibility.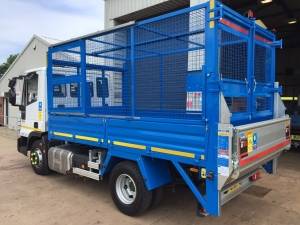 Specialised cage tippers in London
Our cage tippers in London are a fantastic alternative to regular standard tippers as they provide you with more support for heavy cargo loads. In addition to this, they also feature a larger load capacity thanks to the extra cage structure. This enables you to transport and store larger objects and amounts of waste, saving you both time and money by reducing the number of trips needed to transport loads.
Despite their larger size and load capacity, our cage tippers are especially efficient thanks to their lightweight tipper body. This makes them extremely useful for those looking to hire a cage tipper in London for renovating a property or for tradesmen working on busy construction sites.
All our tippers also comply with the latest UK laws relating to the loading of a vehicle as materials which may be prone to falling off during transportation can be secured to the vehicle. At ND Brown we are committed to providing all our customers with a professional service whilst also protecting the environment and other road users.
Contact us for cage tipper hire in London or for more information
Offering a quick response collection service and an exceptional level of customer service, ND Brown are the number one choice for cage tipper hire in London. If you would to find out more about our tipper hire in London, then please do not hesitate to contact us. You can also fill in our online enquiry form.
About ND Brown
ND Brown Ltd is a specialist independent truck rental and sales company of over 40 years' standing. Owned and operated by the same dedicated management team since its inception, ND Brown's efforts are focused on supplying the utility, civil engineering, municipal and highway maintenance industries with high-quality modern HGV vehicles for both short and long-term self-drive hire.
From our sales division, we also sell a wide, but specialised range of new and used commercial vehicles.
Please call us on 01902 791991 or email us on enquiries@ndbrown.co.uk