ND Brown can supply cage tippers direct to you!
22/10/17
Here at ND Brown, we take great pride in being a leading supplier of cage tippers across the UK. With 5 major depots covering England, Wales, Scotland and Northern Ireland, we have a far reaching reputation for delivering an exceptional hire service which is coupled with an unrivalled level of customer support
So, if you require a cage tipper in the UK, we can provide you with a high quality vehicle at a competitive price with the option of a short, long or open ended contact. With more than 30 years experience, we have built up an extensive fleet of advanced vehicles which can cater to your every need.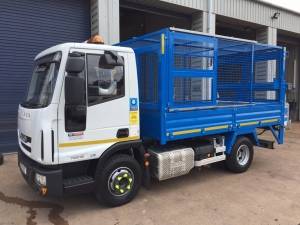 What makes cage tippers different to regular tippers?
Unlike standard tippers, cage tippers are used specifically for the transportation of unusually shaped objects, large or small. This type of tipper is perfect for if you are in the construction industry and need to transport general waste and building products. It is also especially popular with local authorities who require vehicles to transport green waste debris from thinning branches, trees and shrubs as it is designed specifically to contain objects safely.
When in transit objects can easily fall off standard tippers and fragments can come loose in the case of green waste, this can be a hazard to fellow road users and pedestrians alike and is also not compliant with the latest UK laws on vehicle loads. With our secure cage tippers however, you can comply with UK Laws whilst transporting loads safely.
Contact us today for a tailored cage tipper hire
As stated earlier, our cage tipper hire can vary in contract length and we can also provide you with an operated and self-drive solution dependent on your requirements and preference. To find out more about our cage tippers, please contact us today. With a team of highly experienced professionals on hand, we can provide you with expert advice and a competitively priced solution which is tailored to your needs.
About ND Brown
ND Brown Ltd is a specialist independent truck rental and sales company of over 40 years' standing. Owned and operated by the same dedicated management team since its inception, ND Brown's efforts are focused on supplying the utility, civil engineering, municipal and highway maintenance industries with high-quality modern HGV vehicles for both short and long-term self-drive hire.
From our sales division, we also sell a wide, but specialised range of new and used commercial vehicles.
Please call us on 01902 791991 or email us on enquiries@ndbrown.co.uk