The Number One Provider of Tipper Hire in London
28/10/17
If you're looking for a reliable and professional provider of tipper hire in London, look no further than ND Brown. We understand that a specialised tipper can make any job not only easier, but quicker and safer too! This is why we offer our tipper hire to a diverse range of clients including local authorities, tradesmen and private individuals.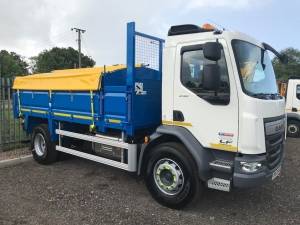 With more than three decades worth of experience and a fleet of advanced vehicles ready to be deployed, we can provide you with a professional so that you can complete your project on schedule.
Choose from short, long or open ended tipper hire in London
At ND Brown we understand that on any project, however well managed, the possibility of unforeseen, problematic circumstances can arise. For this reason, we can provide you with an open ended contract for your HGV and tipper hire in London. This will remove the stress of working to a deadline for returning your vehicle and allows you to focus purely on completing your project to your own arranged deadline.
Alongside this, we can tailor your contract so that you can choose between self-drive vehicle or operated vehicle for your convenience. All of our vehicle drivers are trained to the highest possible standards and know the vehicles inside and out. If you simply require a standard hire package, we can provide you with a simple short term or long term contract.
Generally, we offer 6 different tipper sizes ranging from 3.5 tonnes through to 32 tonne variants, this helps us to ensure that we meet all your demands. Alongside this, we also can provide rear tipping or side tipping bodies to ensure that you can easily drop or load objects dependent on access requirements.
Call or contact us today to book your tipper hire in London
With so many options available, we understand that you may be unsure as to which size vehicle would best suit your needs. So, for expert advice and to find out more about our tipper hire in London, please contact us today. With such a diverse portfolio of previous projects, we guarantee to be able to provide you with tailored solution which is competitively priced.
About ND Brown
ND Brown Ltd is a specialist independent truck rental and sales company of over 40 years' standing. Owned and operated by the same dedicated management team since its inception, ND Brown's efforts are focused on supplying the utility, civil engineering, municipal and highway maintenance industries with high-quality modern HGV vehicles for both short and long-term self-drive hire.
From our sales division, we also sell a wide, but specialised range of new and used commercial vehicles.
Please call us on 01902 791991 or email us on enquiries@ndbrown.co.uk