Preparing For Extreme Weather In 2021
18/1/21
On Monday 28th January 2021, the MET Office officially named the next storm set to batter the UK: Storm Christoph. With the oncoming storm set to bring rain, snow and strong winds, an Amber National Severe Weather Warning for rain was issued to parts of northern, central and eastern England. Separate Yellow warnings for rain were also issued in Northern Ireland, Wales, and Southern Scotland.
It is predicted that rainfall accumulations could reach up to 200mm in parts of the southern Pennines and northern Peak District in the coming week, causing widespread flooding and road disruption across the UK. What's more, the MET Office has also warned that when the low pressure moves out on Wednesday night it will pull in colder air from the north-west resulting in snowfall in Scotland and over the highest parts of the Pennines.
Preparing For Extreme Weather
In the event of extreme weather, it is important to be prepared. Heavy rains often bring about flooding, which poses a real threat to transport systems, homeowners, and commuters. Similarly, heavy winds can fell trees and cause dangerous conditions on the roads.
Following the recent warnings regarding Storm Christoph, councils will be anxious to put protections in place to protect residents and businesses. This starts with liaising with emergency services, the Environment Agency and neighbouring councils to ensure help is on hand where necessary.
Flooding is, without doubt, one of the main concerns when it comes to storms like this. Not only does flooding cause extensive property damage, but it also causes significant disruption to roads and local services. Councils will then, no doubt, be doing everything they can to ensure the safety of residents and their homes with the help of flood defences (such as sandbags) and the deployment of gully emptiers to relieve the effects of flooding, 4×4 vehicles and tippers.
With warnings also in place for snow following the rains, ensuring roads are sufficiently gritted following the downpours is paramount to keep road networks moving and safe for users.
Gully Emptiers For Severe Weather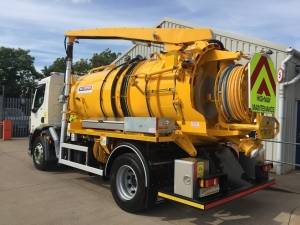 Councils across the country undertake improvements to roads throughout the year to ensure towns and cities are as prepared for extreme weather as possible. Part of this programme of maintenance and improvements involves clearing road gullies and catch pits. Normally, in the event of a storm like Storm Christoph, emergency teams are on standby armed with extra equipment to keep roads clear and to protect homes and businesses.
Gully emptiers are part of this emergency support fleet and can be used to unblock drains and extract liquid in huge amounts. Here at ND Brown, we have a comprehensive fleet of gully emptiers which are utilised throughout the year by council bodies. These vehicles are available for either long-term hire to support with extensive highway maintenance programmes or short term, such as in the event of extreme weather.
To find out more about our HGV hire fleet, and how we can support you, please contact us today.
Staying Safe
In extreme weather conditions, we all must do our bit to stay safe. While Environment Agency teams get to work preparing for the worst of the storm, members of the public should only travel if it is necessary and take extra care around coastal areas or swollen rivers. If you have no choice but to drive in the storm, then check the weather forecast in advance and leave extra time for your journey.
About ND Brown
ND Brown Ltd is a specialist independent truck rental and sales company of over 40 years' standing. Owned and operated by the same dedicated management team since its inception, ND Brown's efforts are focused on supplying the utility, civil engineering, municipal and highway maintenance industries with high-quality modern HGV vehicles for both short and long-term self-drive hire.
From our sales division, we also sell a wide, but specialised range of new and used commercial vehicles.
Please call us on 01902 791991 or email us on enquiries@ndbrown.co.uk