High Class HGV Hire in London
23/11/17
ND Brown are the UK's leading experts in providing a huge range of specialist HGV vehicles readily available for hire. With currently 5 major depots across the UK, if you are searching for information or require HGV hire in London, then look no further. With depots supporting the entire United Kingdom we are an established company known for supplying civil engineering, utility, municipal and highway maintenance sectors and all at very competitive and low prices.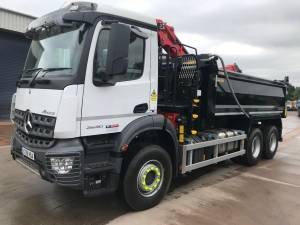 Huge variety for HGV hire in London
With a massive fleet of over 450 HGV hire vehicles we are able to supply and logistically cover the whole of the UK with the location of our depots. HGV hire in London has never been simpler than with vehicles supplied by us whatever the requirement.
With cage tippers, tippers, hot boxes, 4x4s and more, we have both vehicle speciality and numerous sizes available to cater for every need so whatever the scale of your project, we have a specific HGV for hire in London that really can be tailored ideally.
As a quick reference, we have devised a short list with some our current HGV hire in London vehicle specifications and sizes.
• Hot box hire is available in 7.5, 12, 18 tonne with side tipper, 18 tonne with roadmender, 21 tonne with roadmender and 26 tonne variants ensuring we can perfectly provide for your needs.
• Tippers are available in 3.5 tonne, 7.5 tonne, 18 tonne, 18 tonne with cover, 26 tonne and 32 tonne variants.
• Cage tippers have a lightweight frame and tipper box making them extremely effective for building and trade work.
• Our 4x4s come in three variants, the CCTV Landrover, 4×4 Landrover and 4×4 pickup ensuring we can provide the correct vehicle for your needs.
Contact us for problem free HGV hire in London
If you require any further information please do not hesitate to contact one of our depots today to discuss all the relevant options available to you for HGV hire in London. Our commitment to quality is shown through our association with Safecontractor and Constructionline.
About ND Brown
ND Brown Ltd is a specialist independent truck rental and sales company of over 40 years' standing. Owned and operated by the same dedicated management team since its inception, ND Brown's efforts are focused on supplying the utility, civil engineering, municipal and highway maintenance industries with high-quality modern HGV vehicles for both short and long-term self-drive hire.
From our sales division, we also sell a wide, but specialised range of new and used commercial vehicles.
Please call us on 01902 791991 or email us on enquiries@ndbrown.co.uk