Road Sweepers Expand ND Brown's Hire Fleet
23/1/17
Road sweepers are the new addition to the hire fleet at ND Brown. This expansion builds on thirty years within HGV and commercial vehicle hire.
The 15 tonne road sweeper joins tipper grabs, hot boxes, tippers, 4×4's and gully emptiers.
We are known for providing HGV vehicles to transport heavy loads within the world of building and construction to keep your project moving forward.
Road sweepers are an important part of keeping the site of your construction project clear and safe. The public and private sector use road sweepers daily to keep carriageways, highways, car parks clean. When clearing up after large public events such as carnivals, the road sweeper comes into its element.
We are delighted to be able to broaden our commercial vehicle hire offering.
Road Sweepers for Hire
Our road sweepers come with many high specification features to enable efficient and powerful cleaning. Being fitted with the latest camera equipment improves visibility for operatives. Safety comes first, reducing the risks for passing pedestrians and cyclists. Twin engines power the mesh shaker air operated system and the 1554 litre water tank enables fantastic cleaning capabilities.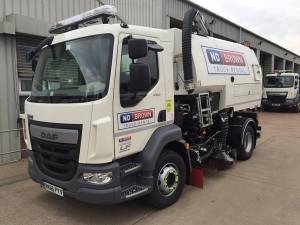 To see more features of the 15 tonne road sweeper, download a vehicle specification sheet.
Contact ND Brown for Hiring Road Sweepers
Road sweepers are an exciting addition to the vehicle hire portfolio, opening new possibilities for our customers. You can still expect the same high standard of vehicle and great customer service when hiring a road sweeper as you would for any of our existing HGV's, tippers and hot boxes. We offer a convenient delivery and collection service.
If you have any questions about our vehicle hire services, please contact us. We can provide you with the hire solution for your project. Alternatively, if you know exactly what you want, please complete a booking request form.
About ND Brown
ND Brown Ltd is a specialist independent truck rental and sales company of over 40 years' standing. Owned and operated by the same dedicated management team since its inception, ND Brown's efforts are focused on supplying the utility, civil engineering, municipal and highway maintenance industries with high-quality modern HGV vehicles for both short and long-term self-drive hire.
From our sales division, we also sell a wide, but specialised range of new and used commercial vehicles.
Please call us on 01902 791991 or email us on enquiries@ndbrown.co.uk