Gully Emptiers Added to the ND Brown Fleet
18/1/17
Gully emptiers are the latest addition to ND Brown's hire fleet. Powerful 18 tonne MVC Gully Emptiers and Water Jetters have joined our portfolio of hotboxes and other commercial hire vehicles to give our customers new options.
Autumn storms, and the increased rainfall or snow of Winter, can result in drains becoming obstructed by leaves and litter. Our climate has altered over the decades with scientists recording that we generally have wetter and unpredictable weather in the UK. The reports on the TV, radio and internet regularly issue "weather warnings" from the MET Office for localised flooding.
The traffic to and from busy construction projects may lead to debris and waste unintentionally blocking grids. Keeping construction sites or carriageways clear is important to safety, the environment and avoiding delays.
Gully Emptiers For Hire
Gully emptiers provide a powerful means of blasting blockages with high velocity hoses. They can extract 1000 gallons of excess water. Whether you need gully emptiers as part of your regular maintenance plan or to tackle a short term flooding issue, ND Brown has the solution. Short and long term hires are available nationally to help you keep grids, gully's and drains clear.
Find out more about the 18 tonne MVC Gully Emptier by downloading the vehicle specification form.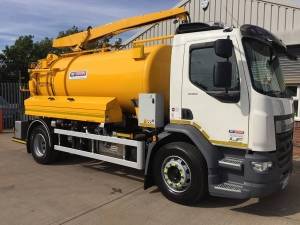 Contact ND Brown to Hire Gully Emptiers
ND Brown has over thirty years of experience and a proven record in providing great service within the commercial vehicle and hot box hire industry. Gully emptiers are one of the latest additions to the offering, alongside road sweepers. They join our fleet of tippers, hot boxes, tipper grabs, 4×4's, and more.
If you would like to know more about gully emptier hire, please contact us. We are happy to advise you on the right vehicles for your project and provide you with a quote.
Alternatively, if you already know what you require from us, please complete a booking request form.
About ND Brown
ND Brown Ltd is a specialist independent truck rental and sales company of over 40 years' standing. Owned and operated by the same dedicated management team since its inception, ND Brown's efforts are focused on supplying the utility, civil engineering, municipal and highway maintenance industries with high-quality modern HGV vehicles for both short and long-term self-drive hire.
From our sales division, we also sell a wide, but specialised range of new and used commercial vehicles.
Please call us on 01902 791991 or email us on enquiries@ndbrown.co.uk