Should you choose HGV hire or purchase?
30/4/15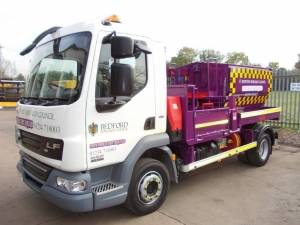 It can be a tough decision between HGV hire or purchasing a vehicle for your business or project. When confronted with the options there are many aspects to be considered including cost, the age of the vehicle, functionality, resale value. Here at ND Brown we provide a range of both HGV hire and HGV sales options and understand the benefits of both methods.
The Benefits of HGV Hire:
Versatility – sometimes a project or business can require a range of HGV vehicles throughout different stages, whether this is a different weighting of vehicle, or a completely different vehicle altogether, hiring means you can simply hire each individual HGV for the exact time frame you require.
No maintenance costs – if you're buying a second-hand HGV you may encounter pricey problems over its lifetime which could leave you with a large bill. With HGV hire the vehicles are regularly serviced by the company and any faults fixed.
No resale – It's an accepted fact that the value of most vehicles drops dramatically year on year, which could make it different to resell after use. HGV hire eliminates this and the vehicle is simply returned when the contract is over.
No major initial payouts – Unlike buying an HGV, HGV hire doesn't require large initial payouts, instead a monthly fee is paid.
The benefits of HGV sales
An investment – by buying an HGV you're investing in a vehicle which you can use time and time again – which is particularly well suited to services where you only require one type of HGV.
Functionality – you can choose a vehicle which is specifically suited to your requirements.
 Here at ND Brown we're experts at supplying a range of HGV Hire including tippers, tipper grabs, hot boxes and cage tippers. Whether you decide to buy or hire we can provide you with exceptional service to ensure that you receive a vehicle which is perfectly suited to your needs and requirements. For more information get in touch with a member of our expert team. 
About ND Brown
ND Brown Ltd is a specialist independent truck rental and sales company of over 40 years' standing. Owned and operated by the same dedicated management team since its inception, ND Brown's efforts are focused on supplying the utility, civil engineering, municipal and highway maintenance industries with high-quality modern HGV vehicles for both short and long-term self-drive hire.
From our sales division, we also sell a wide, but specialised range of new and used commercial vehicles.
Please call us on 01902 791991 or email us on enquiries@ndbrown.co.uk