For Superior Tipper Hire in Manchester, Choose N.D Brown!
21/11/16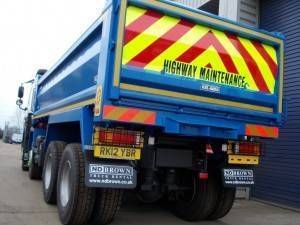 N.D Brown has been setting the standards for tipper hire in Manchester and the surrounding areas for years; we're the number one choice for tipper hire nationally, and for good reason!
With over 30 years' experience in providing fully tailored rental services, you're in the best hands when you come to N.D Brown for your tipper hire in Manchester. We understand that every job has its own set of unique challenges and requirements. You have a whole host of vehicle options for your tipper hire from us. We'll find you the perfect tipper for the job right here.
A Fully Tailored Approach to Tipper Hire in Manchester
Whether you're working on a small domestic project, or something on a much larger scale, we can provide fully tailored and flexible tipper hire in Manchester. Our impressive fleet features heavy-duty drop bodies, cab mounted beacons, and universal towing equipment, and includes the following tippers available to hire in Manchester:
3.5 Tonne Tipper – Perfect for small, domestic jobs, or jobs where space is limited.
7.5 Tonne Tipper – The double dropside body gives all-round access.
18 Tonne Tipper – With tipping facility to tip to the rear or either side.
18 Tonne Tipper with cover – Ideal for protecting loads.
26 Tonne Tipper – With full 'Chapter 8' high resolution reflective to rear chevrons.
32 Tonne Tipper – Our largest tipper is equipped to handle the toughest jobs with ease.
We Make Tipper Hire in Manchester a Breeze – Get in Touch Today!
For those who know which tipper hire in Manchester they need, we have a handy booking request form.
Our expert team are on hand if you have any questions about our tipper hire in Manchester, and you can contact us today
If you'd like to get to know our fleet look at our gallery, and you can keep up to date with our news.
About ND Brown
ND Brown Ltd is a specialist independent truck rental and sales company of over 40 years' standing. Owned and operated by the same dedicated management team since its inception, ND Brown's efforts are focused on supplying the utility, civil engineering, municipal and highway maintenance industries with high-quality modern HGV vehicles for both short and long-term self-drive hire.
From our sales division, we also sell a wide, but specialised range of new and used commercial vehicles.
Please call us on 01902 791991 or email us on enquiries@ndbrown.co.uk