Cage Tippers for Hire and Purchase Nationwide
25/11/16
When a regular tipper just won't do, we have a fantastic range of cage tippers available for hire or purchase nationwide! Cage tippers feature all the benefits of our standard tippers, and then some. Offering much more support for the load than our regular tippers can provide. They are perfect if you're looking to move and store large or irregularly shaped loads safely. Their versatility makes them a very popular choice for commercial and domestic projects as they have so many uses!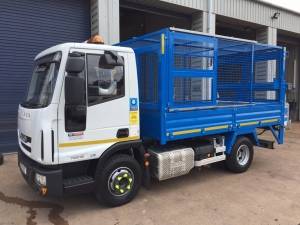 Our Nationwide Cage Tippers Provision is the Perfect Option for You
N.D Brown has over 30 years' experience in providing hire and sales of cage tippers. We have 3 large, well stocked depots across the UK. Hosting all kinds of cage tippers, tipper grabs, hot boxes and more. Being ideally placed to service all corners of the UK, our cage tippers are especially useful for the building and trade industries, and for transporting large amounts of household and garden wastes in all sectors. We also carry a range of cage tipper sizes, so whether you're working on a large-scale, commercial project or something smaller or domestic, then we have the perfect vehicles for the job. For your convenience, we offer a speedy delivery and collection service, so you don't need to worry about getting your cage tipper on site, we'll take care of that for you!
Get in Touch Today for Reliable, Flexible Cage Tipper Hire and Purchase by N.D Brown
If you'd like to know more about our range of cage tippers available for hire and purchase, please don't hesitate to get in touch with our expert team. They're on hand throughout the whole cage tipper hire or purchase process if you need any help or advice, or have any questions on our cage tippers. For those who know what they're looking for, we have a handy booking request form that you can fill in.
About ND Brown
ND Brown Ltd is a specialist independent truck rental and sales company of over 40 years' standing. Owned and operated by the same dedicated management team since its inception, ND Brown's efforts are focused on supplying the utility, civil engineering, municipal and highway maintenance industries with high-quality modern HGV vehicles for both short and long-term self-drive hire.
From our sales division, we also sell a wide, but specialised range of new and used commercial vehicles.
Please call us on 01902 791991 or email us on enquiries@ndbrown.co.uk