Reliable, Safe, Cost Effective Tipper Grabs in London
28/11/16
Looking for the number one choice for tipper hire and purchase of tipper grabs in London?
With over 30 years' experience, you can count on us to understand your projects' needs. Whether you're working on a huge commercial project, or are using tipper grabs in London for small domestic projects. We have a range of tipper grabs available to hire or purchase with the perfect one for your needs. When it comes to hiring and purchasing tipper grabs in the London area, you can count on us!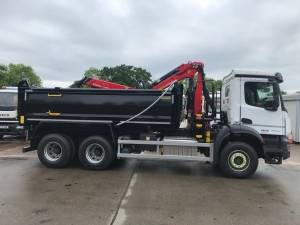 Our Tipper Grabs in London are the Perfect Solution
To make the process of hiring or purchasing tipper grabs in London easy, we offer a delivery and collection service. You don't need to worry about getting your vehicle on site. Our tipper grabs in and around London are available with the following specifications.
7.5 tonnes – Twin stand up controls, amber beacon bar and towing equipment.
26 tonnes – Fixed sided heavy duty tipping body and choice of atlas epsilon or HMF cranes.
32 tonnes – The largest tipper we have available to hire in London. With a fixed sided, heavy duty tipping body, and a choice between 3 crane types.
Get in Touch Today to Discuss How Our Tipper Grabs in London Can Benefit You
If you're looking for tipper grabs in London and the surrounding areas, why not get in touch with our friendly team today?
They're on hand if you have any questions at any stage of the hire or purchase process for tipper grabs in London. For those of you who know exactly what you need for your project, you can fill in our handy booking request form.
We also have a useful guide on the range of tipper grabs in London available, as well as other HGV and plant hire vehicles in stock, including hot boxes, gully emptiers, 4×4's and more.
We look forward to assisting you with your project and making it a success!
About ND Brown
ND Brown Ltd is a specialist independent truck rental and sales company of over 40 years' standing. Owned and operated by the same dedicated management team since its inception, ND Brown's efforts are focused on supplying the utility, civil engineering, municipal and highway maintenance industries with high-quality modern HGV vehicles for both short and long-term self-drive hire.
From our sales division, we also sell a wide, but specialised range of new and used commercial vehicles.
Please call us on 01902 791991 or email us on enquiries@ndbrown.co.uk