Supporting the Safer Roads Scheme With Tarmac Hot Boxes
26/2/21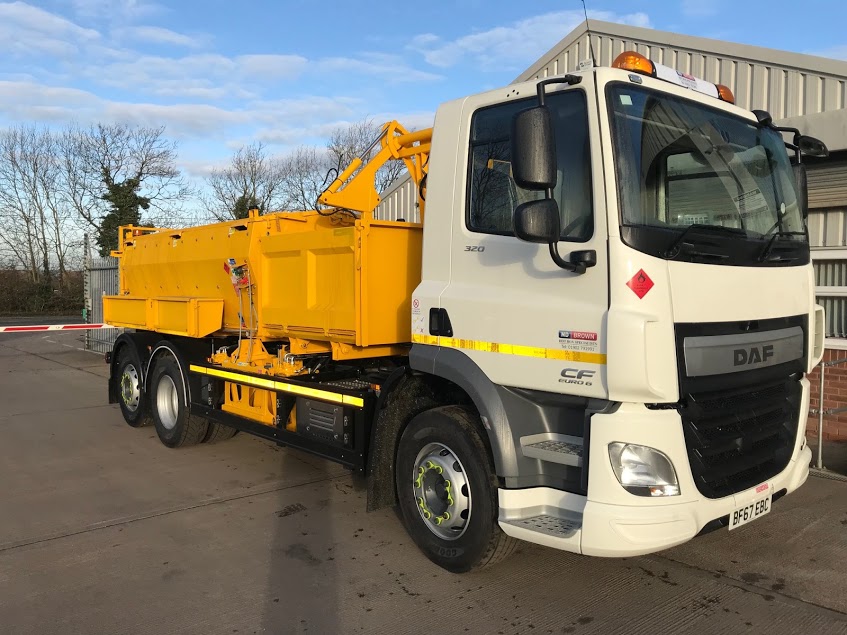 With the Department of Transport introducing the Safer Roads fund, work is well underway on treating the 50 highest risk local A road sections in England. A big part of this project involves resurfacing high risk roads, such as the A161 in North Lincolnshire. In order for these projects to be a success, it's important to equip yourself with the very best equipment and here at ND Brown, we can supply that in the form of Tarmac Hot Boxes. In today's article, we'll be exploring the Safer Roads fund and how our HGV hire range can help.
What Is The Safer Roads Scheme?
The Safer Roads Fund was introduced by the Department of Transport in order to treat the 50 highest risk local A road sections in England. It was decided that for the safety of their users, each needed remedial road safety engineering interventions. The total investment put forward is £100 million across 48 different schemes.
The hope is that these schemes will work together to prevent around 1,450 fatal and serious injuries over the next 20 years. The value of prevention of the schemes is £550 million which when compared with the whole life cost of the treatments (£125 million), results in a Benefit to Cost ratio of 4.4. With this in mind, for every £1 that is invested, £4.40 is returned in the shape of benefit to the society. As a part of this project, the organisers committed to improving 70 miles worth of road surfaces across the country and the A161 in North Lincolnshire is a fine example. Starting next week, resurfacing work will be carried out between Graizelound and junction A18 near Ealand.
How Can Tarmac Hot Box Hire Help?
As organisers are planning the logistics of these projects, it's vital that they arm themselves with the best equipment to get the job done. Here at ND Brown, we can supply just that. Thanks to being specialists in Hot Box hire, we have a large fleet of vehicles with the highest specification to ensure that regardless of the project scale or length, we can provide the solution.
We understand that no two projects are the same and so our fleet of over 550 vehicles contains a wide range of sizes and features from small Towable Hot Boxes to 26 Tonne GVW Econ Roadmenders. Each of our tarmac hot boxes are also insulated for thermostat control. In order to fulfill your every need, our vehicles include, but are not limited to the following:
Propane Gas Heating Systems
Electronic Gas Ignition Systems
Digital Temperature Control
In order to ensure that you receive the best experience throughout your project, our tarmac hot boxes are extremely low maintenance. We are also experienced in supplying to the utility, civil engineering, municipal and highway maintenance sectors, with our vehicles being extremely useful in dealing with road resurfacing across the country.
Why Should I Choose ND Brown?
As specialists in Tarmac Hot Box hire, we can be relied on to deliver the best vehicles nationwide, with a service tailored to you. Having had over 40 years of experience under the same management team, ND Brown's team still operates with the same ambition to keep driving the customer experience forward. We understand the ever changing nature of these kinds of projects and so we've built a flexible service to provide short and long term hire options. Therefore, whether you're looking to hire a tarmac hot box for a week, month, year or on an open ended contract, we can help.
Thanks to our strategically placed depots across the country, we can also offer a nationwide service. Currently, we hold depots in Wolverhampton, Devon, Kent, Plean and Belfast meaning that whether you want to hire in London or Glasgow, we've got you covered. Another benefit of choosing ND Brown is that our team can offer a delivery/collection service to make the logistics of your project easier. If you already have a Hot Box at your disposal, we also offer servicing to keep it running at it's optimum level for as long as possible.
Enquire About Tarmac Hot Box Hire Today
If you're interested in hiring one of our tarmac hot boxes, please contact us. Our experienced and friendly team will be on hand to assist you with any queries. They will also work hard to tailor your hire contract around the needs of your project. Our full HGV hire range can be found on our website, along with full specification sheets. If you have found this blog helpful, you may also be interested in checking out the rest of our news section, which is full of helpful information like this.
About ND Brown
ND Brown Ltd is a specialist independent truck rental and sales company of over 40 years' standing. Owned and operated by the same dedicated management team since its inception, ND Brown's efforts are focused on supplying the utility, civil engineering, municipal and highway maintenance industries with high-quality modern HGV vehicles for both short and long-term self-drive hire.
From our sales division, we also sell a wide, but specialised range of new and used commercial vehicles.
Please call us on 01902 791991 or email us on enquiries@ndbrown.co.uk