Grab Hire To Help Redevelopment in Birmingham
4/3/21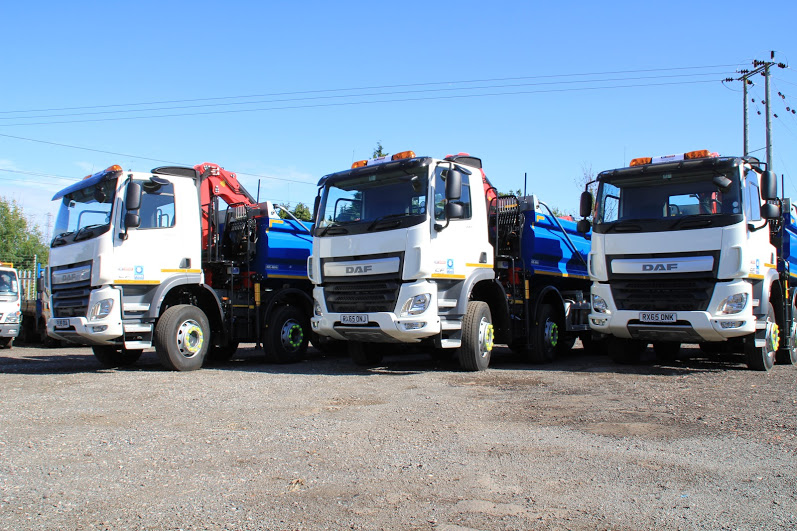 Birmingham continues to keep growing with another brownfield redevelopment project for student accommodation given the green light today. According to Visit Birmingham, the city already houses over 80,000 students.Therefore, it's vital that these new student accommodation complexes continue to be built to meet demand. Here at ND Brown, we have already supplied HGV Hire, and more specifically grab hire in Birmingham to a wide variety of projects similar to this. We thought that we would use our latest article to explore how we can help you on your next project.
What Grab Hire Is Available?
Here at ND Brown, we understand that often, no two jobs are the same. In order to cater for the differing needs of projects across a wide variety of sectors, we have built a fleet of over 600 HGV hire vehicles. A large part of our fleet is made up of tipper grab hire vehicles. In order to ensure that we cater for every type of project, no matter the size or nature, we've amassed a collection of different sizes, all with different features. At the time of writing, you have the choice of any of the following tipper grab vehicles:
Details and specification sheets can be found for each of the vehicles above by clicking through to their pages. We are also constantly looking to improve our fleet with more and more vehicles being added all the time. For example, the 7.2 Tonne GVW Tipper Grab vehicle was only added last month. You can find our announcement in our blog.
Is Grab Hire Right For Your Project?
Grab hire trucks are often called upon in a variety of industries, from construction and highway maintenance to utility or civil engineering businesses. This comes with good reason too. Similar to tipper vehicles, they are an easy option for transporting and moving heavy cargo to and from site. However, unlike normal tipper vehicles, grab hires also have the benefit of a large grabbing arm in order to lift and move difficult items.
One of the most notable benefits of this type of hire vehicle is that it prevents your workforce from undertaking tasks that could injure them. In the long run, this can save both time and money as productivity is improved. Not only that, but thanks to the crane involved in a tipper grab, you have much more control over where your cargo is unloaded.
Is Grab Hire Exclusive To Birmingham?
Thanks to our depots in Wolverhampton, the South West, South East, Scotland and Belfast, we're perfectly placed to run a nationwide service. If you are looking for grab hire in Birmingham, the team working in our HQ in Wolverhampton will work hard to provide you with the right hire for you.
In order to make the process as easy as possible and give you one less thing to worry about, we can also arrange a collection and delivery service. By guaranteeing that the vehicle will be ready for use whenever you need it, we can help to make planning easier.
Arrange Your Hire Today
If you believe that grab hire could help your next job, please contact us. Our friendly and experienced team will be happy to assist you with any queries that you may have. Our team of specialist staff can help you to find the right grab hire in Birmingham for you.
Each of our grab hires are complete with fixed side heavy-duty bodies that are kept in the very best of conditions. In addition to an outstanding vehicle, we will also provide you with an outstanding service, with flexible short and long term contracts available according to your needs. Whether you're looking to hire for a week, month or on an open ended agreement, we can help.
About ND Brown
ND Brown Ltd is a specialist independent truck rental and sales company of over 40 years' standing. Owned and operated by the same dedicated management team since its inception, ND Brown's efforts are focused on supplying the utility, civil engineering, municipal and highway maintenance industries with high-quality modern HGV vehicles for both short and long-term self-drive hire.
From our sales division, we also sell a wide, but specialised range of new and used commercial vehicles.
Please call us on 01902 791991 or email us on enquiries@ndbrown.co.uk