The Advantages of using ND Brown for your HGV Hire Fleet
5/2/16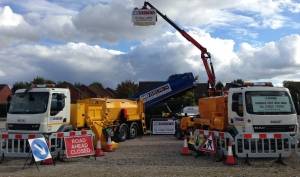 Hiring your fleet of HGV vehicles for highway maintenance, construction, utility and municipal purposes can be a tricky process and making sure you get the right fleet can impact on the performance of your project or business.
We provide a wide range of HGV hire vehicles for you to choose from including hot boxes, cage tippers, tipper grabs, tippers and 4x4s and this means that for many businesses we can have all the specialist HGV hire vehicles needed to complete your project, contract or ongoing service. There are many advantages of hiring your entire fleet from ND Brown.
4 Advantages of ND Brown HGV Fleet Hire:
All of our vehicles are maintained to the highest standards and this ensures that you have minimal disruption from breakdowns or faults with the vehicles.
We have experience in supplying our hgv hire vehicles to businesses or organisation where there are tight schedules. By hiring all of your vehicles from ND Brown we can coordinate our service easily with your time scales, to ensure the process is swift and efficient.
We offer a delivery and collection service, from our depots throughout the country. This means that you can get the vehicles you need quickly and easily.
Whether you want long term hire, short term hire or a combination for your HGV hire vehicles, we can create a hire package that suits the needs of your business.
Contact ND Brown:
If you would like to find out more about hiring a fleet of our HGV hire vehicles then please get in touch with a member of our team – we're here to help!
About ND Brown
ND Brown Ltd is a specialist independent truck rental and sales company of over 40 years' standing. Owned and operated by the same dedicated management team since its inception, ND Brown's efforts are focused on supplying the utility, civil engineering, municipal and highway maintenance industries with high-quality modern HGV vehicles for both short and long-term self-drive hire.
From our sales division, we also sell a wide, but specialised range of new and used commercial vehicles.
Please call us on 01902 791991 or email us on enquiries@ndbrown.co.uk