The Benefits of HGV Hire With ND Brown
22/6/15
Whatever the size of your project, ND Brown specialises in HGV hire and have a huge range of vehicles to choose from. We have tippers, cage tippers and grab hire available in London, Birmingham, Manchester and the rest of the UK. And, we can also drop off your vehicle and collect it at a time convenient for you. You don't have to worry about your project overrunning either, as all of our HGV's can be hired on a fixed or open-ended contract. ND Brown believe in giving our customers maximum room to manoeuvre around deadlines as we understand projects don't always go to plan.
HGV Hire Specialists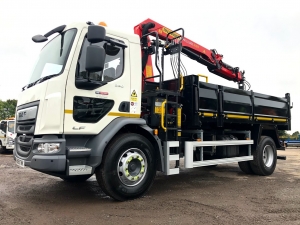 Each of our vehicles is maintained to the very highest standards and feature the latest safety equipment to ensure your project runs smoothly and safely. Our cage tippers are the perfect way to transport awkward loads such as machinery, timber or rubble. We also have regular tippers for more easily transportable loads and these feature universally adjustable towing equipment along with dual passenger seats. And, with a hot box you can keep your asphalt at an exact temperature while transporting, using and storing it which is perfect for construction projects such as road laying or surfacing.
Contact ND Brown for HGV Hire
We offer extremely good rates across our range of vehicles for use all over the UK. We also offer full servicing and repair services at our garages which extends to third party vehicles. Our clients often come back to us on a regular basis thanks to the efficiency of our service and our reliability. ND Brown have great experience in the industry and refuse to be beaten on quality or value. If you would like to know more about our HGV hire service, please don't hesitate to contact us today for more information.
About ND Brown
ND Brown Ltd is a specialist independent truck rental and sales company of over 40 years' standing. Owned and operated by the same dedicated management team since its inception, ND Brown's efforts are focused on supplying the utility, civil engineering, municipal and highway maintenance industries with high-quality modern HGV vehicles for both short and long-term self-drive hire.
From our sales division, we also sell a wide, but specialised range of new and used commercial vehicles.
Please call us on 01902 791991 or email us on enquiries@ndbrown.co.uk