Is Tipper Hire Available Near me?
30/7/18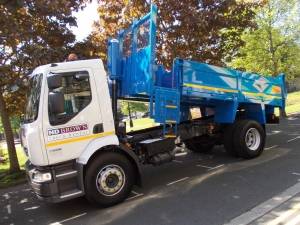 If you're looking for tipper hire in the United Kingdom, but you're worried that you're not going to find a great service where you're based – then it's certainly time to stop worrying.
At ND Brown, we offer nationwide tipper hire to the entirety of the nation and pride ourselves on our efficient and professional service.
Our tipper hire has been used in a diverse portfolio of previous projects, and they are available in 3.5 tonne, 7.5 tonne, 18 tonne – with or without cover, 26 tonne and 32-tonne variants.
We're confident that we can provide you with the tipper that your project requires, regardless of where you are located.
Our Depot Locations Allow Us to Service the Nation with Tipper Hire Services
We have a wide range of depot locations that allow us to service the nation with our tipper hire. Continue reading below to find out where we're based;
Based on the Old Stafford Road in Slade Heath, Wolverhampton – this depot acts as our headquarters. It allows us to service the West Midlands area, including the second city of Birmingham. We are also able to service areas such as Liverpool and Manchester from this location.
Our depot in Witheridge, Devon allows us to service the South East of England and is based on the Old Market Field industrial estate.
Our South East depot in Tonbridge, Kent allows us to service the entire area – including all of London – meaning your major projects won't suffer with our tipper hire on hand.
Plean
Our Scottish depot in Plean allows us to service the major cities of Glasgow and Edinburgh, as well as Northern English cities like Newcastle. Based on the Plean industrial estate, we're never too far away for your project in Scotland.
Belfast
For projects in Northern Ireland, our Crumlin depot in Belfast allows us to service the entirety of the country.
Contact us About Tipper Hire Regardless of Where You Are
From the above, you should be able to see that we can provide a tipper hire service wherever you are across the United Kingdom.
If your require more information about us, or locations or our product, please give our helpful team a call today.
About ND Brown
ND Brown Ltd is a specialist independent truck rental and sales company of over 40 years' standing. Owned and operated by the same dedicated management team since its inception, ND Brown's efforts are focused on supplying the utility, civil engineering, municipal and highway maintenance industries with high-quality modern HGV vehicles for both short and long-term self-drive hire.
From our sales division, we also sell a wide, but specialised range of new and used commercial vehicles.
Please call us on 01902 791991 or email us on enquiries@ndbrown.co.uk