How can I get Grab Hire in Manchester?
28/7/18
It's never easy to find the perfect provider of grab hire in Manchester – or at least it wasn't until you discovered ND Brown.
When working in construction or the building trade, tipper grabs can prove to be a vital cog in ensuring that your project runs as smoothly and possible.
Our Tipper grabs for grab hire in Manchester are an integral part of our 500 strong fleet, and we regularly maintain them to keep them running at their optimum level – ensuring they'll service your project as best as they can.
Offering grab hire throughout the UK and regularly servicing projects in Belfast, Birminghan, Edinburgh and London, we're the perfect option for large scale or large city projects.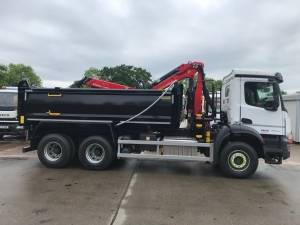 Various Specifications of Grab Hire in Manchester
At ND Brown, we're able to supply a large range of grab hire vehicles that are available with a number of differing hardware specifications.
Our grab hire in Manchester can provide 7.5 tonne, 18 tonne, 26 tonne and 32 tonne variants, meaning that we're able to meet your needs regardless of the size of the project.
All of our grabs are fitted with a Epsilon M125L classic crane, maintained to the highest of qualities and meet ISO standards of quality.
Available on both short and long term hire, many of our grab hire in Manchester vehicles have top-of-the-range specifications such as twin stand up control, fixed heavy duty tipping bodies and towing equipment.
We also have a range of used stock available to buy, should you need to purchase rather than hire.
Contact us for Grab Hire in Manchester
If you're looking for grab hire in Manchester, or anywhere else across the United Kingdom, we're happy to provide our service to you.
Ready to take advantage of our high quality vehicles? Get in touch with our expert team today who will be more than happy to help.
About ND Brown
ND Brown Ltd is a specialist independent truck rental and sales company of over 40 years' standing. Owned and operated by the same dedicated management team since its inception, ND Brown's efforts are focused on supplying the utility, civil engineering, municipal and highway maintenance industries with high-quality modern HGV vehicles for both short and long-term self-drive hire.
From our sales division, we also sell a wide, but specialised range of new and used commercial vehicles.
Please call us on 01902 791991 or email us on enquiries@ndbrown.co.uk