Welfare Vans Added to ND Brown's HGV Hire Fleet
21/12/20
ND Brown is proud to announce the addition of the 3.5T GVW Welfare Van to our existing fleet of HGV hire vehicles. The welfare van adds to our existing portfolio of tipper grabs, tippers, hot boxes, 4x4s and gully emptiers.
Here at ND Brown, we are well known for providing sites across the country with the vehicles that they need. Now, our clients can offer their workers all of the necessities that they require to work, in one easy to use vehicle. Our self-contained mobile solution is ideal for a team of up to seven workers. It's features include, but are not limited to the following:
Hot and cold water taps
Toilette with 13 litre flush cassette
Microwave
Kettle
2kw cabin heater with multi-controller installed
Hand towel dispenser
First aid kit (8 person)
Interior LED Lighting
LED reg 65 beacons and strobes
To see more features of the 3.5 tonne GVW welfare van, download its vehicle specification sheet.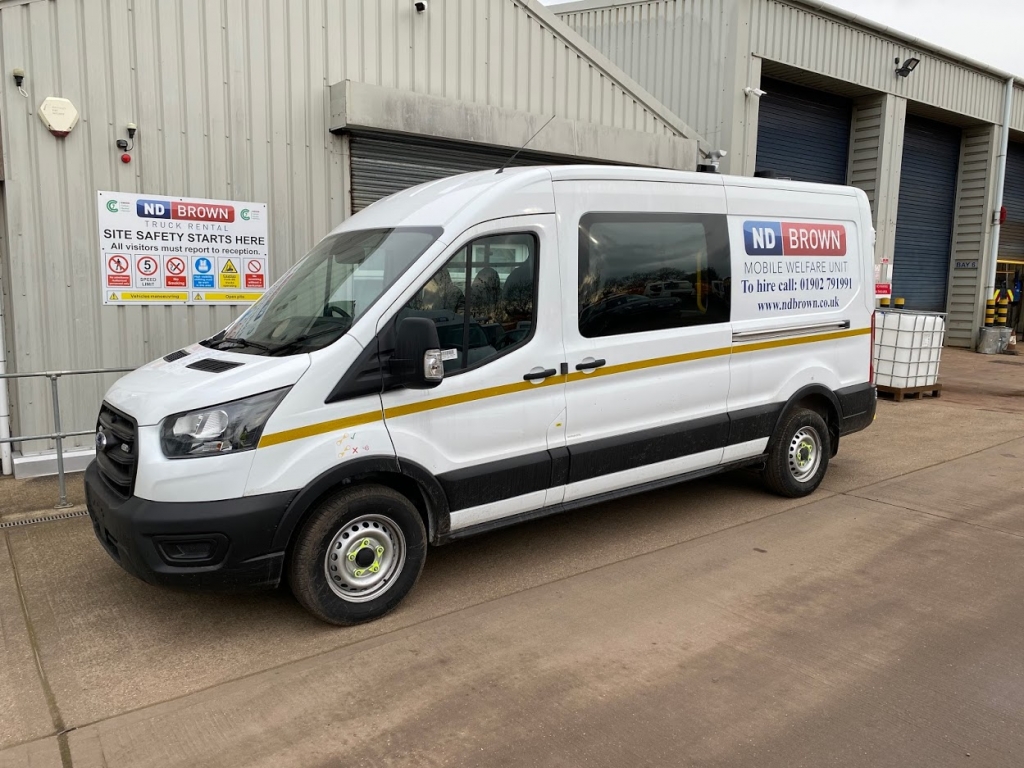 Municipal Vehicles For Hire
Our new welfare vehicle joins the wide variety of specialist and municipal vehicles available for hire from ND Brown. From road sweepers to gully emptiers, ND Brown has got you covered with long and short term hire on high quality vehicles. Our team are dedicated to supplying the utility, civil engineering and highways maintenance sectors with high quality modern vehicles. The addition of our new vehicle shows that after 30 years of experience, ND Brown is still committed to growing.
Contact ND Brown for Welfare Vehicle and HGV Hire
Welfare vans are an exciting and versatile vehicle to add to our existing fleet of hire vehicles. Available on short term and long term hires, they could open up the possibilities for our customers. As with any vehicle from our range, you can expect the highest standard of vehicle and exceptional customer service. Our welfare vans can also be picked up and delivered as part of our collection/delivery service.
If you have any questions regarding our vehicles or services, please get in touch. Our experienced, and friendly team will be happy to provide you with the best hire for your project. Our full range of HGV hire vehicles can be viewed online. Alternatively, if you've made a decision, you can complete our booking request form. Operating nationwide as the leading force in the UK for mobile hot box and HGV hire, ND Brown is the best option for your next project.
About ND Brown
ND Brown Ltd is a specialist independent truck rental and sales company of over 40 years' standing. Owned and operated by the same dedicated management team since its inception, ND Brown's efforts are focused on supplying the utility, civil engineering, municipal and highway maintenance industries with high-quality modern HGV vehicles for both short and long-term self-drive hire.
From our sales division, we also sell a wide, but specialised range of new and used commercial vehicles.
Please call us on 01902 791991 or email us on enquiries@ndbrown.co.uk