Grab Hire in Manchester: Professional and Powerful
26/4/18
For reliable grab hire in Manchester, look no further than ND Brown. Here at ND Brown, we provide professional and high specification tipper vehicles for a variety of projects at a competitive price. We have multiple depots located across the UK, so whether, you're in Manchester, London, Birmingham or in Scotland. Our clients have access to our experience, extensive range of specialist vehicles and a well-established service that you can rely on.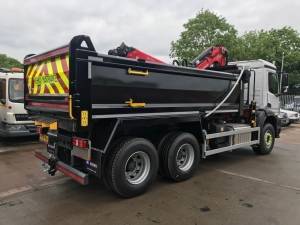 High Specification Grab Hire in Manchester
Whether you're looking for a grab hire in Manchester for an extended project or a short-term rental. You'll find the ideal vehicle within our comprehensive fleet of tipper grabs. Our grab vehicles are available in a number of weights such as; 7.5 tonnes, 26 tonnes, 32 tonnes. Regardless of the weight of vehicle you choose, even the heaviest hauls will be no match for our vehicles. Thanks to their heavy duty fixed side body which features on all sizes of grab vehicles as standard. For the full breakdown of vehicle specifications see our HGV Guide.
We are extremely proud of the reputation we have built for ourselves which has been elevated thanks to our customer care and vehicle reliability. Our quality of work has been recognised and supported by organisations such as Constructionline and Safecontractor.
Call us or complete an enquiry for Grab Hire in Manchester
If you would like to know more about our grab hire in Manchester or would like any additional information about any of our tipper vehicles. Get in touch with one of our team who will put you on the right path to find the perfect vehicle to complete you project. As part of our complete service in Manchester, we'll deliver and collect your grab vehicle to your site. For any of our other vehicles, take a look at our online brochure .
About ND Brown
ND Brown Ltd is a specialist independent truck rental and sales company of over 40 years' standing. Owned and operated by the same dedicated management team since its inception, ND Brown's efforts are focused on supplying the utility, civil engineering, municipal and highway maintenance industries with high-quality modern HGV vehicles for both short and long-term self-drive hire.
From our sales division, we also sell a wide, but specialised range of new and used commercial vehicles.
Please call us on 01902 791991 or email us on enquiries@ndbrown.co.uk