Maintain Standards with HGV Hire
22/5/18
Heavy Goods Vehicles (or HGV hire) come in a variety of shapes and functions. N.D. Brown is proud to be the leading supplier of HGV's for hire across London, Manchester, Birmingham and further afield. We've been in our trade for over 30 years and have grown our fleet of over 450 vehicles and services, offering HGVs for sale, hire or servicing and repairs. Our HGV's are suitable for large and small projects, whether they last a few days or are a long term continuous commitment.
HGV Hire Specifications
HGV's are an integral part of construction projects. When the truck or equipment on-site is not up to the required level of safety and standards it can be dangerous. At N.D. Brown rest assured that when you hire a vehicle from us, you're receiving one that is serviced and maintained to the highest standards. From the moment we deliver, or you collect your vehicle, you're guaranteed a durable, efficient and reliable HGV, that will run perfectly from the get-go.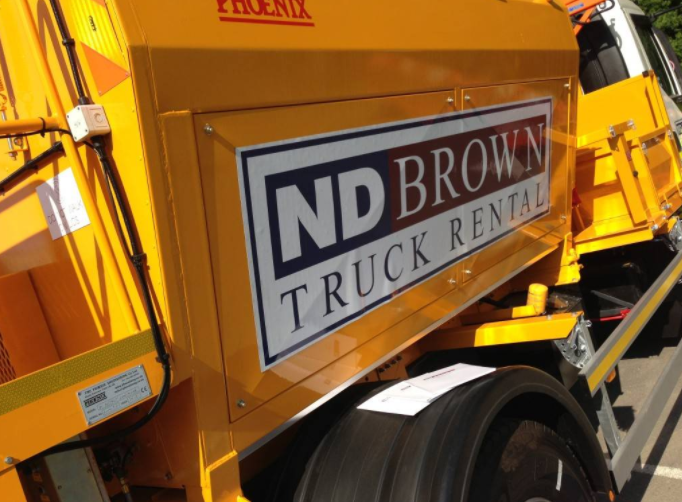 As we have a varied and large fleet of HGVs for hire view a compilation guide to the different vehicles and specifications.
Hot Box HGV Hire – For the storing, hauling and dispensing of hot asphalt.
GVW (7.5t, 12t and 18t),
GVW with side tipper (18t)
Roadmender GVW (18t, 21t, and 26t)
Tipper, Tipper Grab and Cage Tipper HGV Hire – Perfect for the transportation and removal of loose materials such as soil, gravel and demolition waste. These trucks feature a grabbing arm and bucket which can be used by a single driver operator. Tipper grabs make loading easier within small spaces.
Tipper (3.5t, 7.5t, 18t, 26t, 32t)
Tipper Grab (7.5t, 26t, 32t)
Cage Tipper (7.5t)
Tipper with cover (18t)
HGV Hire Online Brochure
N.D. Brown provide the UK's most comprehensive and independent HGV hire service in the UK. For more information about any of our vehicles for hire or specifications. Take a look at our online brochure. Or for helpful and professional advice speak to one of our team today.
About ND Brown
ND Brown Ltd is a specialist independent truck rental and sales company of over 40 years' standing. Owned and operated by the same dedicated management team since its inception, ND Brown's efforts are focused on supplying the utility, civil engineering, municipal and highway maintenance industries with high-quality modern HGV vehicles for both short and long-term self-drive hire.
From our sales division, we also sell a wide, but specialised range of new and used commercial vehicles.
Please call us on 01902 791991 or email us on enquiries@ndbrown.co.uk