HGV Hire for Summer Haulage
8/7/19
The British economy relies upon road haulage to transport goods and materials. How important is it? According to the Department for Transport, road freight activity in the United Kingdom for the year 2017 states that 1.40 billion tonnes was moved by GB registered HGVs domestically.
Summer is a busy season for many industries in the UK. Where additional heavy goods vehicles are required to meet demand; ND Brown has the answer with HGV hire solutions for a variety of sectors. Construction, demolition, and agriculture are just some of the industries which are at their busiest and most productive during the summer months. Making the most of the (generally) drier weather and extra daylight. The race is on to get materials to building sites, extract demolition waste, or take goods for processing and to markets.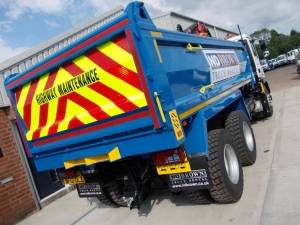 HGV Hire Across the UK to Cover the Summer
If you are in an industry which finds itself at its busiest during the summer months and in need of additional heavy goods vehicles, then ND Brown has what you require. For organisations utilising tipper hire and tipper grabs to move anything from waste to metal ore and quarried substances, you are in good company. 11% of goods lifted in the UK were related to waste equating to 153 million tonnes. While 14% of goods lifted were from mines, these quarried materials at 195 million tonnes, were moved by heavy goods vehicles. Astounding figures which show the scale and the importance of HGV haulage.
For those businesses and organisations who rely on such vehicles. ND Brown has a comprehensive HGV hire solution with trucks available on long term and short hire to meet the demands of your summer schedule. Wherever you are in the UK, we have the specialist HGV hire to match your project.
HGV Hire from ND Brown
With five regional depots covering all corners of Great Britain (including London) and Northern Ireland. You can rely on HGV hire from ND Brown to deliver the lorry you need to keep your summer project on track. We understand that everyone's venture is different, so if you would like further information and advice about our HGV options, please contact us.
About ND Brown
ND Brown Ltd is a specialist independent truck rental and sales company of over 40 years' standing. Owned and operated by the same dedicated management team since its inception, ND Brown's efforts are focused on supplying the utility, civil engineering, municipal and highway maintenance industries with high-quality modern HGV vehicles for both short and long-term self-drive hire.
From our sales division, we also sell a wide, but specialised range of new and used commercial vehicles.
Please call us on 01902 791991 or email us on enquiries@ndbrown.co.uk