What is Muck Away?
11/7/19
Muck away is the removal of waste materials from a site. A general term for extracting spoil from building sites and construction projects in their early stages. Within the demolition and construction industries it may also be referred to as spoil away or cart away. This process is usually undertaken during the initial phase of a project where earthworks excavation results in the removal of vegetation and topsoil. When the land is under redevelopment and a previous structure has been demolished, the materials will be building related. Bricks, concrete rubble, tiling, metals and insulation alongside broken down asphalt are some of the constituents needing removal. This type of site clearance must be completed before the groundworks stage can commence.
There are three main categories of muck away; inert, hazardous and non hazardous. Whatever the nature of your project, ND Brown has an HGV to suit your muck away requirements.
Truck Hire for Muck Away Logistics
The size of your project, the amount of waste materials, site access, and your schedule will influence the type of HGV hire truck you will need for muck away tasks.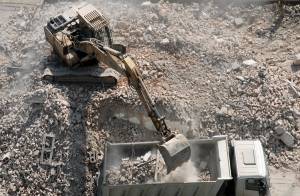 Tipper trucks are very useful for removing big quantities in a single journey. They will require loading with a digger or excavator, so the site will have to be large enough to accommodate the turning circle or rotational diameter of such machines. Tipper hire is available in London and throughout the rest of the country too.
Where sites are smaller or access is limited, tipper grab hire is a better option. In this case, the extendable arm and bucket of the truck can be used by the operative to reach over obstacles to collect the waste and deposit them into the load compartment. Materials which have already been separated into containers, such as skip bags or grab bags, can be extracted efficiently and transported away for recycling. We offer a first class hire service nationally including, Birmingham, Manchester, and London.
Muck Away HGV Hire from ND Brown
Project managers looking for HGV hire for muck away will find a comprehensive range of tipper lorries and grab trucks on long and short term hire options to suit the phases of their demolition and build. Waste removal companies looking to bolster their fleet to meet extra work load will benefit from ND Brown's national hire provision with strategically located depots around the UK. Contact us today with your enquiries.
About ND Brown
ND Brown Ltd is a specialist independent truck rental and sales company of over 40 years' standing. Owned and operated by the same dedicated management team since its inception, ND Brown's efforts are focused on supplying the utility, civil engineering, municipal and highway maintenance industries with high-quality modern HGV vehicles for both short and long-term self-drive hire.
From our sales division, we also sell a wide, but specialised range of new and used commercial vehicles.
Please call us on 01902 791991 or email us on enquiries@ndbrown.co.uk