Truck and HGV Rental in London
16/7/19
Truck and HGV Rental in London is an important part of keeping the UK's capital city going. With a population of over 8.7 million people living and working in the Greater London area. It is one of the world's major urban centres; fast paced and dynamic it relies on an infrastructure which needs constant maintenance, updates and changes to accommodate the pressures of a multi million person population. The transport system on the ground which links ports, harbours, airports, rail networks and roads in and around the capital, to the major arterial routes leading out across the South East will all use various kinds of truck and HGV's to keep them in optimum working order.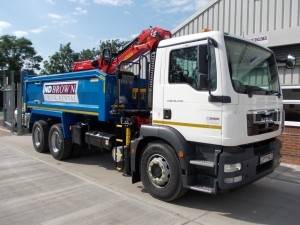 Supplying Truck and HGV Rental to the Public and Private Sector
ND Brown have a proven record in supplying truck and HGV rental to public and private sector operations. From major construction projects which require vehicles for "muck away" and site clearance. Our tipper hire and tipper grab lorries of varying capacities are an essential part of demolition and site clearance in preparation for the commencement of ground works. Projects which need spoil removing as part of the excavation of drainage and sewer systems as well as building foundations. Where new roads and existing roads are being built or maintained, we can deliver the exact quota of Hot Box trucks to ensure your surfacing application runs to schedule. Or sweepers can help with the clean up operations to stop the inevitable dust and dirt from building works spreading and becoming a health and safety issue.
The Leading Truck and HGV Rental Company in London
ND Brown is the leading truck and HGV rental company in London and the south east of England. Our depot in Kent can supply your organisation, whether you are a London Borough Council or a private construction firm, with exactly the right kind of HGV on long or short term hire terms to suit the demands of your project. Please contact us today with your enquiry.
About ND Brown
ND Brown Ltd is a specialist independent truck rental and sales company of over 40 years' standing. Owned and operated by the same dedicated management team since its inception, ND Brown's efforts are focused on supplying the utility, civil engineering, municipal and highway maintenance industries with high-quality modern HGV vehicles for both short and long-term self-drive hire.
From our sales division, we also sell a wide, but specialised range of new and used commercial vehicles.
Please call us on 01902 791991 or email us on enquiries@ndbrown.co.uk