Municipal HGV Hire
17/8/15
Here at ND Brown we supply our HGV hire options to a wide range of industries, with one of the most common being for municipal purposes in both the private and public sectors. Our vehicles are used for a variety of functions which include road laying, building and maintenance. We've developed a large portfolio of clients from this sector and are now the first choice for many. One of the reasons why we're so popular is our unerring dedication to customer service. We are on hand to help you with your HGV hire decision, answering any questions you may have and supporting you through the entire hire service. Due to the nature of the work undertaken it's essential that we provide high quality HGV hire vehicles which deliver on quality, performance and price, and we ensure this is present in all of our hire packages.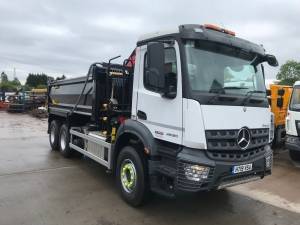 HGV Hire Packages
Municipal work can take place over extended periods of time, or can sometimes just need to be for a few days at short notice and so we pride ourselves on our versatility. We can offer short, long and open ended contracts on our fleet and can drop off and pick up this vehicles, which is especially handy if time constraints are in place. Our vehicle fleet is wide and varied and includes hot box hire, cage tipper hire, tipper hire, 4×4 hire and grab hire. We know that one size doesn't fit all with this type of hire, and so our HGV Hire vehicles are available in a selection of sizes and with special features such as side tipping bodies and roadmenders.
Find out more about municipal HGV hire:
If you would like to find out more about our municipal hgv hire packages then please get in touch with a member of our expert team. We can answer any questions you may have and provide you with a tailor made quote for your specific HGV hire package.
About ND Brown
ND Brown Ltd is a specialist independent truck rental and sales company of over 40 years' standing. Owned and operated by the same dedicated management team since its inception, ND Brown's efforts are focused on supplying the utility, civil engineering, municipal and highway maintenance industries with high-quality modern HGV vehicles for both short and long-term self-drive hire.
From our sales division, we also sell a wide, but specialised range of new and used commercial vehicles.
Please call us on 01902 791991 or email us on enquiries@ndbrown.co.uk