ND Brown For all your HGV Hire Needs
18/9/15
Here at ND Brown we pride ourselves on providing a comprehensive HGV hire service throughout the UK (including London) and create a bespoke hire package to meet the needs of your business. We have an extensive fleet of HGV hire vehicles, explained below:
The HGV Hire Fleet
Hot Box Hire: Hot boxes are one of our most popular choices for HGV hire. These are mainly used in the highway maintenance and construction industries for road surfacing and repairing. We have a wide selection of vehicles available from 7.5 tonne to 26 tonne.
Tipper Hire: Tippers are a common HGV hire vehicle on construction sites, providing an easy way to transport and unload heavy cargo. They have features such as steel dropside bodies and tipping facilities to tip to rear or side for added ease.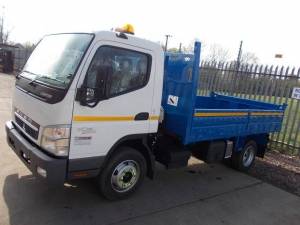 Tipper Grab Hire: Configured much the same as a tipper, the tipper grab has a crane which can be manipulated to grab, pick up and transport cargo to and from the tipper back. These are particularly useful on sites where heavy items need to be moved and can greatly decrease the man power required.
Cage Tipper Hire: Cage tippers are one of the most recent additions to our fleet and provide similar functionality to the tipper vehicles but with the added feature of a cage frame covering the rear of the tipper.
Our HGV hire fleet is maintained to the highest levels to ensure that you can complete your project quickly and to the highest standards. We can also drop off and collect your HGV hire, to make it easier for our vehicles to fit in with tight schedules.
Find out more about our HGV hire:
If you would like to find out more about our HGV hire fleet then please get in touch with a member of our expert team who will provide you with any guidance you may require.
About ND Brown
ND Brown Ltd is a specialist independent truck rental and sales company of over 40 years' standing. Owned and operated by the same dedicated management team since its inception, ND Brown's efforts are focused on supplying the utility, civil engineering, municipal and highway maintenance industries with high-quality modern HGV vehicles for both short and long-term self-drive hire.
From our sales division, we also sell a wide, but specialised range of new and used commercial vehicles.
Please call us on 01902 791991 or email us on enquiries@ndbrown.co.uk