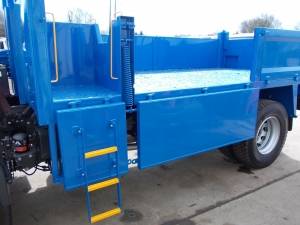 ND Brown Ltd is leading the way in the Rental market by designing a 'Safe Access Zone' which is fitted to our new 18 Tonne Insulated Tippers. The available tipper body volume has not been diminished as we use the longer wheelbase variants. The access configuration comes with 3 points of contact all clearly defined and a safe zone to climb into before stepping into the tipper body. This is fitted to the Near Side of our latest 18 Tonne Tippers. To the Off Side, we have created a clean area/sign storage area.
Other Safety Features fitted as standard by N D Brown include;
Spring Assist to drop sides.
1200mm twin beacon bar to cab roof.
Reversing aids.
Rear tailboard chute doors operated by levers so the user stands to the side of the discharge area.
Chapter 8 livery.
PTO interlocks.
Integral body prop.
About ND Brown
ND Brown Ltd is a specialist independent truck rental and sales company of over 40 years' standing. Owned and operated by the same dedicated management team since its inception, ND Brown's efforts are focused on supplying the utility, civil engineering, municipal and highway maintenance industries with high-quality modern HGV vehicles for both short and long-term self-drive hire.
From our sales division, we also sell a wide, but specialised range of new and used commercial vehicles.
Please call us on 01902 791991 or email us on enquiries@ndbrown.co.uk