Why Hire A Static Hot Box?
1/9/20
A hot box is a container which keeps tarmac soft in transit and throughout the laying process. While traditionally it was necessary to use gas burners to achieve this, hot boxes provide a safe and portable solution by removing the need for flames. This reduces the risk of injury in the course of transporting and laying tarmac.
Hot box vehicles are available in a wide range of sizes, from 7.5-tonne variations to large capacity vehicles, such as the 26-tonne GVW Econ Roadmender. However, often in the course of small blacktop works a hot box vehicle isn't entirely necessary. Instead, a static hot box is an ideal choice to reduce costs and increase efficiency.
The Benefits Of Static Hot Boxes
The main benefit of a static hot box is that it allows materials to be bought in bulk and stored on-site at the right temperatures. They are then readily available for use when you need them and in the right quantities.
Static hot boxes can also be used in conjunction with hot box vehicles. Trips back and forth to the asphalt plant to collect the correct amounts of materials for the day can be costly and time-consuming. With a static hot box, it is possible to carve out a location for a static hot box and have vehicles collect the materials directly from it without the need for queuing or waiting times.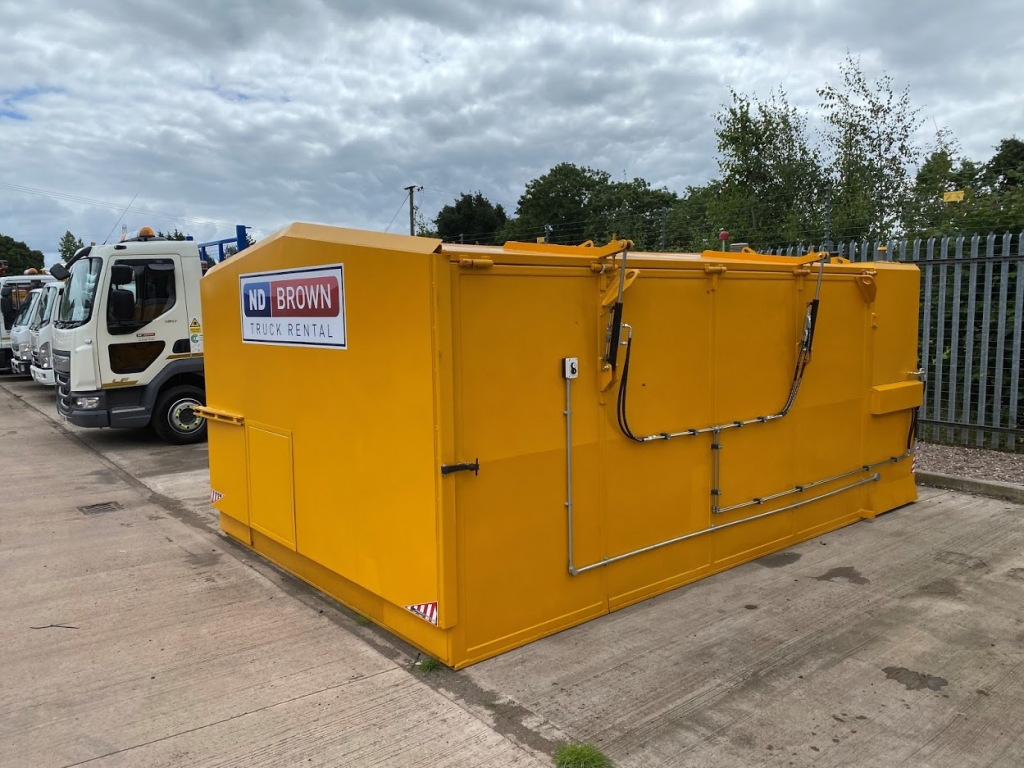 For all the reasons above, static hot boxes are a fantastic investment which can drastically reduce outgoings and save time. Furthermore, hiring a static hot box can be even more efficient in terms of cost and timings, as you can hire it for only as long as you need, have it delivered directly to your site and collected when you are done with it!
Static Hot Box Hire from ND Brown
At ND Brown, we have several static hot boxes for hire in a wide range of storage capacities. This includes 12 tonne, 15 tonne, 20 tonne and 30-tonne variations. These static bunkers are also available in gas, diesel or electric heated versions and can store asphalt for up to 36 hours.
Hiring a static hot box from ND Brown is quick and easy with our delivery and collection service. What's more, hire options range from short term to long term depending on your needs. If you're looking to hire a static hot box, we can help! We offer static hot boxes for hire across the UK from our strategically placed depots. Our friendly hire team would be thrilled to assist in arranging hire for your project. Contact us to find out more.
About ND Brown
ND Brown Ltd is a specialist independent truck rental and sales company of over 40 years' standing. Owned and operated by the same dedicated management team since its inception, ND Brown's efforts are focused on supplying the utility, civil engineering, municipal and highway maintenance industries with high-quality modern HGV vehicles for both short and long-term self-drive hire.
From our sales division, we also sell a wide, but specialised range of new and used commercial vehicles.
Please call us on 01902 791991 or email us on enquiries@ndbrown.co.uk