Safety First with Grab Hire
28/9/15
Here at ND Brown, we're dedicated to the safety of our vehicles, our customers, and the general public.
We regularly maintain and repair and service our fleet to ensure that they are working at an optimum level and operate safely through the hire period. We are also dedicated to improving our vehicles to fit the needs and safety requirements of our customers and this has recently resulted in several modifications to some of our large grab hire vehicles.
Grab Hire Safety Modifications
HGVs and Tipper Grabs have a reputation for being difficult to manoeuvre, and the large body can obstruct driver vision making it hard to safely navigate areas. To help with this we have always fitted reversing cameras in our vehicles and this has proven particularly effective in helping to deliver a safe service – reducing blind spots. We've recently decided to make further additions to our Grab hire fleet, with the installation of Sentinel equipment to improve grab hire and specialist HGV hire safety.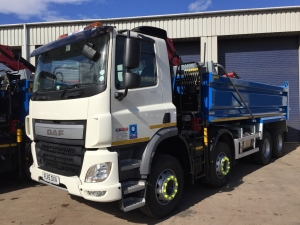 Throughout all of our fleet of over 550 HGV hire vehicles, we have rolled out a side-scan cyclist detection system enabling drivers to be more aware of their blind spot where cyclists can be unnoticed. In the larger 32 tonne grab hire vehicles, a four-camera system has been installed which provides all-around visibility and digital recordings to improve visibility, as well as provide a record of activity. These modifications make our fleet of HGV and Grab vehicles easier to drive and much safer for the general public.
Changing our fleet to include these features also makes us compliant with Cross Rail specifications, enabling us to meet the specifications required to work on this project, and making our vehicles safer for general use.
Find Out More About Grab Hire
Our grab hire and HGV hire vehicles are available throughout the country from our strategically placed depots and are particularly popular in Birmingham, London, Manchester and the Midlands. If you would like to find out more about our safety features, or any of our fleet then please get in touch. We can advise you on the best hire package for your requirements and provide you with a no-obligation quote.
About ND Brown
ND Brown Ltd is a specialist independent truck rental and sales company of over 40 years' standing. Owned and operated by the same dedicated management team since its inception, ND Brown's efforts are focused on supplying the utility, civil engineering, municipal and highway maintenance industries with high-quality modern HGV vehicles for both short and long-term self-drive hire.
From our sales division, we also sell a wide, but specialised range of new and used commercial vehicles.
Please call us on 01902 791991 or email us on enquiries@ndbrown.co.uk