Why is Grab Hire Better than Skip Hire?
12/5/19
Being a grab hire provider, you would be forgiven to think that we are biased on this topic, but not without good reason. When it comes to waste removal, skip hire is a popular choice. But is it the best option?
Is Grab Hire Better Than Skip Hire?
Building sites, renovation projects and organisations across the country often default to using skips to load and get waste and by products removed. When a site is too small to house a skip, they are placed on the roadside, which requires a permit, and the additional costs involved. There is also the potential disruption and inconvenience caused by having one directly outside a premises. Or the obstacle it can become when remaining on site for a long time.
The advantages of using a grab hire is that it is a mobile unit. The vehicle can arrive, the large bucket and extendable hydraulic arm can efficiently lift big quantities and load it into the hopper on the back of the HGV. The grab lorry can then be driven away to dispose of the waste or get it recycled. All of this can be actioned by one person, whereas skips can require more manpower and time to load. A grab hire gives you the opportunity to clear sites quickly and effectively; very important when running to a tight schedule.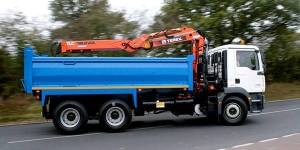 Apart from the muckaway capabilities of these vehicles for carrying a diverse range of spoil such as soil, various aggregate waste from a demolition, or green waste. They are a brilliant multi purpose lorry; loading and removing waste on their way out, while having the capacity to bring in materials for landscaping and construction, including fresh top soil, gravel, sand, hardcore and more. You wouldn't get that type of utility with skip hire alone.
The Grab Hire Option from ND Brown
ND Brown are specialist HGV and commercial vehicle hire specialist. Wherever there is a construction or demolition project in the UK, we have the solution for you. For grab hire in Birmingham and Manchester, our West Midlands depot is right on your doorstep. London and the South East is served from our base in Kent. We also have strategically located depots in the South West, Scotland and Northern Ireland.
With a variety of vehicle capacities including the 18 tonne, 26 tonne or 32 tonne tipper grabs. There is a vehicle size which suits your load and access requirements. Why opt to go anywhere else?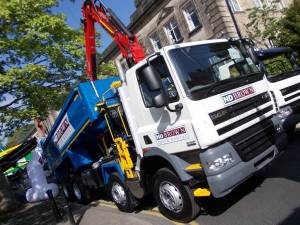 Grab Hire, HGV Hire and More at Your Service
Tipper grab hire lorries are just one of many types of HGV hire and commercial vehicle hire we have in our portfolio. Whether you are looking to hire something to help clear the streets, clean drains, mend roads, or even a 4×4 – it's all here at ND Brown. Contact us today for enquiries, availability or a quote.
About ND Brown
ND Brown Ltd is a specialist independent truck rental and sales company of over 40 years' standing. Owned and operated by the same dedicated management team since its inception, ND Brown's efforts are focused on supplying the utility, civil engineering, municipal and highway maintenance industries with high-quality modern HGV vehicles for both short and long-term self-drive hire.
From our sales division, we also sell a wide, but specialised range of new and used commercial vehicles.
Please call us on 01902 791991 or email us on enquiries@ndbrown.co.uk